Adel Khedri's self-immolation is one of 178 in Tunisia in the past two years as the Middle East and North Africa continue to struggle with problems of poverty and joblessness despite the hope fanned by the 2011 uprisings.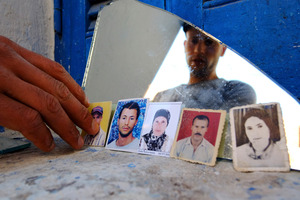 On the day he chose to die, Adel Khedri woke up at 6.30am, took his black backpack and headed down to the busy boulevard where he worked as a cigarette peddler.
It was the last in a series of odd jobs that had defined his hand-to-mouth existence for almost nine years. He couldn't afford to pay bribes to get hired as a driver or a guard. The Tunisian Army didn't need him. There were few factory jobs. And the owner at a fast food restaurant in neighbouring Libya had cheated him out of wages as a dishwasher.
So on March 12, three weeks after his 27th birthday, Adel left the dirty room he shared with his older brother in a Tunis slum for the tree-lined Avenue Habib Bourguiba, once the stage for the first of the Arab Spring uprisings.
He stopped in front of the art deco Municipal Theatre. He poured petrol over his body.
Then he set himself on fire.
Adel died 19 hours later. One of his last words to a doctor at the burn centre was "faddit" - slang for "fed up".
Adel is one of 178 people in Tunisia who have set themselves on fire since the self-immolation two years ago of another high school dropout-turned-street vendor began the Arab Spring.
These two book-ends of a revolution that toppled four Arab dictators show how little has changed in between for millions of jobless, hopeless 20-somethings across the Middle East and North Africa.
Youth unemployment worldwide is up to about 12.3 per cent, in part because of the global financial crisis that began five years ago. But some areas of the Middle East and North Africa suffer from more than twice that rate, because of stubborn labour market problems compounded by the turmoil of the Arab Spring.
And the future looks even worse. In the Middle East, youth unemployment is expected to rise from 27.7 per cent in 2011 to 30 per cent in 2018, the International Labour Organisation reported. In North Africa, a slight increase is expected, from 23.3 per cent to 23.9 per cent.
Economists say fixing the problem will require broad changes, such as shaking up education, slashing public sectors and encouraging entrepreneurship.
In the meantime, the numbers add up to a generation in trouble.
In Tunisia, 143 of the people who set themselves alight over the past two years, many of them unemployed, have died. Similar self-immolations have been reported in Algeria, Egypt, Morocco, Jordan, Bahrain and Lebanon, though in smaller numbers.
A month after Adel's death, five of the 20 beds at the Ben Arous burn centre in Tunis held people who had set themselves on fire, including two young men newly arrived from the poor provincial towns of Kasserine and Ben Guerdane.
Self-immolations make up about 25 per cent of admissions, according to Dr Amen Allah Messaadi, the centre's trauma chief.
Some victims suffer from mental problems, but most are just like Adel, unemployed high-school dropouts in their 20s.
Adel's life of struggle was in some ways a copy of that of his father, Habib.
Born in Souk al-Jumma, about 150km west of Tunis, Habib went to the capital as a young man to find work as a day labourer. In January 1978, he was wounded by gunfire during a government crackdown on anti-poverty protests.
In 1980, Habib married his cousin, Latifa. The couple started out in a tiny Tunis room just like the one Adel and brother Issam, 29, were to share later.
Several years later, the Khedris got a two-room concrete shack in Souk al-Jumma as part of a housing programme by the Government of President Zine El Abidine Ben Ali, the longtime authoritarian leader of Tunisia. Latifa stayed in the village with Issam and Adel. Habib returned to Tunis to work.
Over the years, Latifa had Bilal, now 24, Hamza, 20, and Omar, 17. The growing family squeezed into one bedroom, while the second room served as a kitchen. Habib came home occasionally and sent money when he could.
It was never enough.
As a boy, Adel often railed against growing up poor. When his parents pressured him to get a job, he berated them for having children they couldn't afford.
Issam was the first of the brothers to quit school. He joined his father in 2003 in Tunis, where they had to hustle every day to find construction work.
Adel's last school was a 10-minute walk away from the family home in Souk al-Jumma, down a dirt path and past a village coffee shop where unemployed men smoke, drink and play cards in the daytime. The school teaches 447 students, including 250 boarders from outlying areas, in a testament to Tunisia's investment in educating all children. Yet many leave because their families expect them to help earn money, according to principal Issam Ayari.
Adel was one of them. A hand-written student ledger shows Adel dropped out of school on April 20, 2004 aged 18 having repeated two grades.
If he had gone on to 10th grade, he would have taken a bus to a school 20km away at a cost of 54 dinars ($42) per year. By comparison, a job in construction pays 15 dinars a day ($11.30).
Adel and his brothers were part of the "youth bulge" across the Middle East and North Africa, a region of about 380 million people. In Arab nations such as Tunisia, Libya, Egypt, Yemen and Jordan, those under 25 make up anywhere from 40 to 60 per cent of the population.
The Arab world would have to create about 46 million jobs to bring unemployment down to the global average by 2020, says World Bank economist Elena Ianchovichina. Instead, economic growth has come in at well below the 6 per cent a year required to achieve this, particularly in Arab Spring countries that saw a sharp economic downturn.
Even a university education may make no difference. In Tunisia, about 230,000 university graduates are unemployed, making up one-third of the jobless, according to the National Institute of Statistics.
The Union of Unemployed University Graduates puts the number of jobless graduates closer to 350,000, saying many have stopped looking for work.
The few jobs available are awarded through nepotism and political links, says union member Soheil Idoudi, 32, who has an engineering degree but never worked in his field. His four college-educated siblings survive on odd jobs.
After years of moving between odd jobs, Adel went to the capital in 2008 to join his father and brother. Habib was slowing down, plagued by his old wound. He became a tea vendor, earning half of what he would have made in construction. Habib died of cancer in November 2010, aged 55.
A month later, street vendor Mohamed Bouazizi set himself on fire. The Jasmine Revolution erupted. Adel and Issam were excited. They joined the protests and burned pictures of Ben Ali, who was overthrown in less than a month.
Suddenly, a new generation could dare to hope for freedom and jobs. The brothers voted for Ennahda, a moderate Islamic party, in Tunisia's first free election in October 2011. Ennahda won as part of the political rise of the regionwide Muslim Brotherhood, long suppressed by Western-backed dictators.
But Ennahda failed to revive the economy, and the Khedri brothers quickly lost faith. Adel switched from construction to the slightly more lucrative trade of selling cigarettes on the street opposite the Finance Ministry and the courts. Each morning he picked up his cardboard boxes from a night guard who stored them overnight under a staircase. Then he set up his stand to catch the morning rush hour trade of lawyers, government officials and passers-by.
From there, the picture of Adel turns fuzzy. Two waiters at the Cafe de la Justice said he drank heavily, but others reported that he sent money home and wouldn't have wasted it on alcohol.
Two friends say he had several relationships, but brother Issam said he was serious about a girl who worked as a maid in Tunis, whom he could not afford to marry. The girlfriend agreed to speak by phone on condition of anonymity because she did not want the relationship to become public. She is in her early 20s and says she holds a three-year degree from Jendouba University in economics and management.
"Since I knew him, he was irritable and unsettled," she said. "Recently, he was particularly nervous. We were always talking about how bad the situation was."
Issam said policemen often harassed his brother by taking cigarettes for free. But Ratiba Ben Othmane, a neighbouring lawyer, denied any such trouble, and called Adel "a nice young man" who was troubled by his girlfriend's jealousy.
Adel was particularly despondent in January. He got a job as a dishwasher in a fast food restaurant in Tripoli, Libya, but left after two weeks when his boss didn't pay his full wages. It's not clear what pushed him over the edge.
Photos of Adel on fire appeared on the front pages of Tunisia's newspapers the next day.
"Tunisians become inflammable," read the headline in the Al Anwar newspaper, one of several from that day that Issam keeps under his mattress.
Jobless get a worthwhile skill
Just six months of learning to mend air conditioners changed Mohammed Nabouti's life.
Instead of drifting after high school like many of his jobless friends, the 21-year-old Jordanian works steadily, has taken a small loan to start his own business and recently got engaged.
Nabouti's story points to a fix the unemployment-stricken Middle East might try until deeper economic reforms can kick in, experts say - job training, micro loans and help in setting up businesses.
In Jordan, Egypt, Tunisia, Iraq and elsewhere, the government has long been the largest employer, offering better wages and job security than the private sector. The universities served to feed the civil service, with an emphasis on certificates rather than specific skills, while those with a high school education or less became shopkeepers or labourers.
But a population explosion resulted in too many competitors for too few civil service jobs, and not enough skilled workers, said Mayyada Abu Jaber, head of the Jordan Career Education Foundation.
Each year, Jordan produces about 40,000 college graduates, while 60,000 high school dropouts compete for unskilled jobs.
Abu Jaber's centre offers the dropouts training in surveying, hospitality, air conditioner repair and information technology.
Up to 1500 young Jordanians complete the classes every year, she said, adding that "the private sector is really waiting for those graduates".
After graduating in 2011, Nabouti got a government loan of 2000 dinars ($3439) to rent a van.
He makes 800 dinars a month fixing air conditioners, double a labourer's wage, and says his prospects are better than a college graduate's.
For many others without jobs, especially college graduates and professionals, emigration is the only option, and every sixth Jordanian works in one of the oil-rich Gulf countries.
- AP