Money paid to maintain American influence may have been channelled to warlords and criminals instead.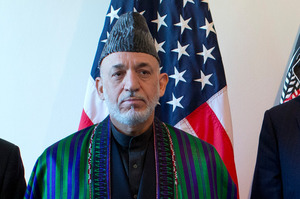 Hamid Karzai has confirmed that his Government received money from the CIA, after reports that tens of millions of dollars were delivered to the Afghan President over the past decade.
Cash stuffed into suitcases, backpacks and even plastic shopping bags was sent to Kabul by the United States intelligence agency with the aim of retaining influence, but might instead have fuelled corruption and ended up in the pockets of warlords, the New York Times reported.
Karzai confirmed yesterday that the National Security Council, which is part of the President's office, had accepted payments that he said were used for good causes.
"Yes, the NSC of Afghanistan has received money from CIA in the past 10 years. The amount was not big, rather it was small," he said.
Khalil Roman, who served as Karzai's deputy chief of staff from 2002 until 2005 told the New York Times: "We called it 'ghost money'. It came in secret, and it left in secret."
The payments are one of Afghanistan's worst kept secrets. However, the details are a clear illustration of the way that dollars lubricate the business of government but may also act against American interests, propping up criminal and patronage networks even as other projects try to dismantle them.
Some of the money may have even ended up with officials linked to the Taleban or the drug trade, according to the newspaper.
"The biggest source of corruption in Afghanistan," one American official was quoted as saying, "was the United States."
Cash payments have been used since the war began in 2001, initially to buy the services of warlords to wage war on the Taleban. Karzai and his aides then asked for the money to be routed through his office, according to a former adviser, so that he could buy their loyalty himself.
The CIA payments began soon after Iranian officials delivered a carload of cash in December 2002 and continued in monthly deposits. The money is used to fund off-the-books expenses, such as paying off parliamentarians, underwriting delicate diplomatic trips or informal negotiations, according to officials. Some still goes to keeping warlords on side, such as Abdul Rashid Dostum, whose militia was backed by the CIA in 2001.
The CIA declined to comment on the report.