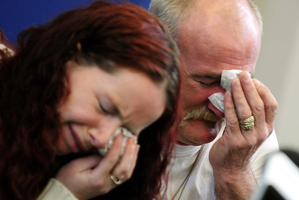 Mick Philpott made no apologies for the way he lived. "It's a great lifestyle," he boasted to Jeremy Kyle during one of his pantomime interrogations on daytime TV.
A mini-celebrity who thrived on the nickname of Shameless Mick, in the years leading up to the tragedy he became a tabloid bogeyman.
The 56-year-old unemployed baker was pilloried as an emblem of the modern benefits culture. The fact he was father to 17 children by five different women and lived with two much younger partners - his wife and a mistress with whom for more than a decade he spent alternate nights in a caravan parked in his driveway - enraged conventional right-wing media morality.
He lived off the £2000 ($3587) a month state benefits of the pair, as well as their wages which he insisted be paid into his bank account.
The living arrangement earned Philpott a place on the Jeremy Kyle Show and in a documentary.
Yet there was an almost sneaking admiration from some on the liberal left who felt he was a defiant figure of working-class individualism.
Life at 18 Victory Rd, however, was anything but great for the two women in Philpotts' world.
Quick to anger, he was their master who controlled the money they earned from the cleaning jobs to which he drove and collected them each day. He pocketed the benefits to which their large families entitled them.
They were to become virtual prisoners in the three-bedroom semi-detached house where they lived with 11 children, nine of whom were fathered by Philpott.
When they defied him he beat and humiliated them, refusing to let them go out or mix with anyone that might threaten his control. The children were outwardly well cared for, thanks to his wife, Mairead, who cooked and cleaned while Mick played snooker or darts in the games room, smoked cannabis with his friend Paul Mosley or made love to his mistress Lisa.
Far from being the family from hell, the Philpotts were liked by many. According to neighbours the children were content. Neighbour Vicky Ferguson, whom the Philpotts tried to frame with partner Adam Taylor over a borrowed petrol-powered weedeater, recalls a "normal family, happy kids". Ferguson said: "The house was clean and tidy ... Lisa was with Mick most of the time. The kids' bedrooms were typical toys and stuff."
Ferguson, friends with both Mairead and Lisa, said she was puzzled by the arrangement, but like others just got on with it largely for the children's sake.
Philpott needed to control his women. According to detectives he was unable to form relationships with partners of his own age. He groomed his targets when they were young and at rock bottom, starting up a sexual relationship, isolating them from their family to dominate them.
He'd been to jail for his violence against women, convicted in 1978 of attempting to murder his 17-year-old girlfriend, Tracey Hill, stabbing her 11 times when she tried to leave.
Philpott blamed his criminal record for his inability to get a job but repeated his pattern of behaviour time and again. While married to first wife Pamela Lomax, with whom he had three children, he met 14-year-old Heather Kehoe. She ran away with the then 39-year-old when she was 16 and had two children by him. But the relationship soon turned abusive. He ordered their eldest son to punch his mother in the face and kick her.
Philpott met Irish-born Mairead when she was 19, a single mother in deep distress. Abused as a child and raped as a teenager she had been severely bullied at school. At first she looked on Mick as her guardian angel. A previous abusive boyfriend had punched her and shaved her head. Life at Victory Rd offered an alternative, provided it was on Mick's terms.
Lisa Willis was 17 when she met Philpott, then in his 40s and married to Mairead, at a New Year's Eve party. She too was a single mother, an orphan with no birth certificate she had nowhere to go. Within weeks she was ensconced in the Philpotts home and estranged from her family.
The children who died
Duwayne, 13: A quiet and caring Derby County fan who loved to go to the match with his dad, playing music and learning the violin. The teenager was his siblings' protector and was the only one to emerge from the fire alive but died two days later in hospital.
Jade, 10: The Philpott's first child together and their only daughter. Teachers said she was intelligent and always smiling. Her parents regarded her as a "little princess". Her body led the children's funeral cortege carried by a horse with pink feathers.
John, 9: Described as a "cheeky comedian" he was another avid Derby County fan said to have had a "daredevil personality"and who dreamed of being a soldier when he was older.
Jack, 8: The Philpott's "blue-eyed boy" who loved to play on his Nintendo DS and watching Peppa Pig. The quietest of the children, he was described as "cute, cuddly and content with everything".
Jesse, 6: Friends said he was fearless and always getting into scrapes with his brothers and coming in from the garden covered from head to toe in dirt. His mother called him her "little Irish stamper" because he was always storming off to his room
Jayden, 5: Described by his mother as a "miracle baby born six weeks premature". He was found dead in his school uniform because he never liked taking it off. Bouncy and hyperactive, he was mothered by his big sister Jade.
- Independent