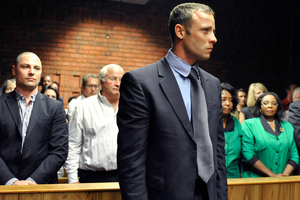 A BBC documentary claims Oscar Pistorius' murdered girlfriend met her former long-term boyfriend in the days before her death.
A BBC Three documentary titled Oscar Pistorius ... What Really Happened? to screen in Britain today accuses the Olympian of twice calling to interrupt an "innocent" conversation between Reeva Steenkamp and her ex-boyfriend Warren Lahoud.
The pair are said to have met for a coffee just days before Steenkamp was killed, but were interrupted twice in the space of 40 minutes by phone calls from Pistorius.
Lahoud claims he had previously met Pistorius on two occasions, adding: "There was never anything negative out of it at all. [It was fine] ... no problem at all."
Pistorius, 26, is accused of murdering his girlfriend Steenkamp after she was shot dead at his home last month.
- Independent