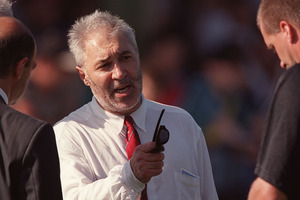 Phil Cleary, a former footballer and federal politician, lost his sister, Vicki, to a violent, jealous man in 1987.
She was 25 when her ex-boyfriend, Peter Keogh, stabbed her repeatedly outside the kindergarten where she worked. But at the trial it was her character which came under scrutiny, and Keogh spent less than four years in jail.
A quarter of a century on, Cleary is still horrified by the way Keogh was able to plead provocation and have his murder charge reduced to manslaughter. And he fervently hopes a New South Wales parliamentary inquiry which has been examining the controversial provocation defence will recommend reforms that will prevent men like Keogh getting away with murder.
The inquiry, which is due to report today, was sparked by the case of Chamanjot Singh, who strangled his wife, Manpreet Kaur, and slashed her throat with a box cutter multiple times.
Singh's lawyers successfully argued that he was provoked by her verbally abusing him and telling him she loved someone else and planned to leave him.
Convicted of manslaughter, he was jailed last June for just six years.
But while such cases have triggered public outrage, some experts who gave evidence to the inquiry cautioned against jettisoning the provocation defence, which was abolished in New Zealand in 2009. They included Associate Professor Julia Tolmie of the University of Auckland's law faculty, who says the move has resulted in long sentences for women who killed their partners after suffering prolonged violence.
The problem which the NSW inquiry has been grappling with is that provocation has always been a double-edged sword - used not only by men who kill in a fit of jealousy or, sometimes, after receiving an unwanted homosexual advance, but also by women trapped in extreme situations of domestic violence. For the latter, the tricky and often fruitless route of pleading self-defence is the only one left in jurisdictions which have abolished provocation, including Victoria, Tasmania and Western Australia.
Partly for that reason, the NSW Bar Association and NSW Law Society have argued the defence should be retained, but amended to limit what kind of behaviour can be deemed provocative - explicitly excluding, for instance, non-violent conduct such as sexual infidelity.
Tolmie backs that stance, saying it was never meant to be used in such situations. "It was designed for extreme situations, for circumstances that are extraordinary or unimaginable. People get rejected or left all the time, and while it's painful it's hardly extreme - it is run of the mill."
Since New Zealand scrapped the defence, in what Tolmie calls a "knee-jerk response" to the Clayton NSW will decide on Weatherston case, "there have been primary victims of family violence who have ended up killing perpetrators, and who have needed the defence and it was unavailable", she says. "It [provocation] is meant to be taken into account in the sentencing, but the reality is you're sentencing for murder so you start with a higher tariff.
"The standard sentence in this situation is about eight years. There are people sitting in prison now in New Zealand that I don't think should be there. They should have received a vastly reduced sentence to acknowledge the really egregious circumstances."
The irony of the New Zealand example is that Weatherston, an economics tutor, was unsuccessful in his assertion that his student and former girlfriend, Sophie Elliott, provoked him into killing her. It was the spectacle of him sitting in the witness box for days, demolishing her character, that led to the clamour for reform.
In Queensland, the Northern Territory and the Australian Capital Territory the "partial" defence - partial because it can never lead to an acquittal - has been amended to tighten its application. This is the route that Cleary would like to see NSW follow. For him, reform of the law should reflect modern conceptions of women's rights and independence.
"Just about every wife killing comes about because of infidelity or separation," he says. "What we see in the courtrooms of Australia are disgraceful, misogynistic narratives based on the proposition that a woman is a chattel and has no right to leave a man - narratives which completely deny a woman's human rights.
"My sister had her human rights obliterated in a courtroom - I can't ever get over that, but I would like to see the DPP [Director of Public Prosecutions] declare that the application of provocation in her case, and other cases, was wrong in law."