New boss ditching famous names for fresh faces in drive for less serious news, more entertainment and sport.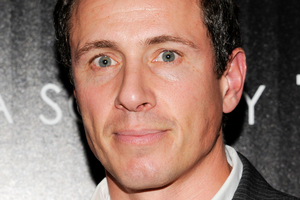 For a man with the herculean job of reinventing the venerable news network CNN, one of Jeff Zucker's first moves was a surprising blast from the past.
After years of being off air, the booming tones of Star Wars actor James Earl Jones were back and announcing the channel's once-famous tagline. "This is CNN!" pronounced the voice of Darth Vader.
Though he has officially been in the job for barely a week, chief executive Zucker, 47, has already taken a scalpel to the channel's roster of stars, sending famous names packing and bringing in fresh faces.
He has signalled he intends to take the channel on a new path - less serious news, more entertainment and sport. More personality and less po-faced political analysis.
To some that will be a shock. The concept of US cable news on a 24-hour non-stop cycle was invented by CNN 33 years ago when the channel was launched by media mogul Ted Turner.
Since then Fox News and MSNBC have popped up and CNN is now struggling in its own backyard.
While the international version remains ubiquitous in hotel rooms the world over, its US incarnation is fighting to remain relevant in the genre it invented. It regularly languishes in third place in the ratings behind Fox News and MSNBC.
Indeed, with Al Jazeera preparing to launch a US channel, there is a fear that CNN may soon end up fourth in the US ratings. To put it mildly, Zucker has a tough job ahead.
"People are going to say he is just rearranging deckchairs on the Titanic," said Professor Jack Lule, a journalism professor at Lehigh University, Pennsylvania. "It is hard to imagine a world without CNN, but it is also hard to see what he can do."
Changes at CNN have already been tried. This is, after all, the channel that gave right-wing firebrand Glenn Beck his first big break on national TV. It is also the channel that hired former British tabloid editor Piers Morgan for a primetime role as one of its key hosts and interviewers.
Indeed Morgan is perhaps the high-profile symbol of what CNN is trying to change into: a channel that is desperately trying to create headlines and be part of the conversation, rather than a simple chronicler of major world events.
CNN has historically wanted to be viewed as the New York Times of American broadcasting: serious, sober and the first choice of policymakers. But no longer.
Indeed Morgan, despite a poor ratings performance since joining the channel, seems likely to herald the new style of CNN that Zucker is aiming to build too. The pugnacious journalist is exceptionally good at getting his show talked about.
During the media debate in the US over gun control in the wake of the Newtown school shooting, Morgan did not shy away from loudly pronouncing his own opinions on the issue, including having a spat with right-wing radio host Alex Jones.
Indeed, as Zucker swung his axe, the new shape of CNN began to emerge amid the hirings and firings.
Out went some of the stodgy old faces known for their political analysis in the shape of Democratic consultant James Carville and his Republican wife, Mary Matalin.
Joining them through the exit were fellow political commentators Erick Erickson, Bill Bennett and Maria Cardona. All had been heavy on weighty political talking points, light on the fun side of news.
Coming in were Chris Cuomo and Jake Tapper - both being poached from network television.
Zucker, who rose to fame as the force behind NBC's hit morning programme the Today Show, appears to be trying to repeat that trick at CNN. Forces are being taken out of CNN's evening prime time and sent to the morning hours.
"It does seem that an extended hard news show in the evening is not what people want any more," said Rick Edmonds, an expert at the Poynter Institute.
Big names Zucker is rumoured to be courting for CNN now include mainstream daytime TV stars such as Matt Lauer and Katie Couric.
Yet it will not be easy. The brand of CNN, which still generates millions of dollars in profit despite its poor ratings performance, remains hard news. Though it languishes behind Fox and MSNBC in the ratings every day, it often rises to the top when major news stories occur.
As elections happen, wars break out or natural disasters strike, Americans switch off the talking heads of its rivals and tune in to CNN for its huge network of on-the-ground reporters and access to reporting from abroad.
The problem is that many viewers these days do not want to watch news at all. They want opinion.
Fox News and MSNBC have not outshone CNN by the breadth and depth of their reporting or by investing in reporting talent around the world. Instead they have invested heavily in political branding with big-name hosts espousing their viewpoints and having debates with panels of guests who - more often than not - share those opinions. News is not made or revealed; it is talked about.
Experts say the phenomenon is a sign of the atomisation of the viewing market as, with a plethora of channels to pick from, Americans are increasingly able to simply choose a news channel which will just present ideas they already agree with. But for CNN there is a problem. With Fox and MSNBC already occupying the right and left of the political spectrum, there is nowhere obvious for CNN to go. For CNN, it seems, adopting an ideology does not seem an option.
"This is CNN," says James Earl Jones' voiceover again. But exactly what he means by that phrase is up for debate.
CNN: The channel that invented the genre is usually now third in the ratings. It mixes talk and on-the-ground reporting. Strong during big events, too dull at other times.
Fox News: The market leader boasts a long list of right-wing hosts such as Sean Hannity and Bill O'Reilly. However, it recently ditched controversial Glenn Beck.
MSNBC: Tries to mirror the success of Fox News on the left. It concentrates on panels about the issues of the day rather than on-the-ground reporting.
Al Jazeera America: The Qatar-funded station has just bought tiny cable channel Current and wants to become a big US player.
- Observer