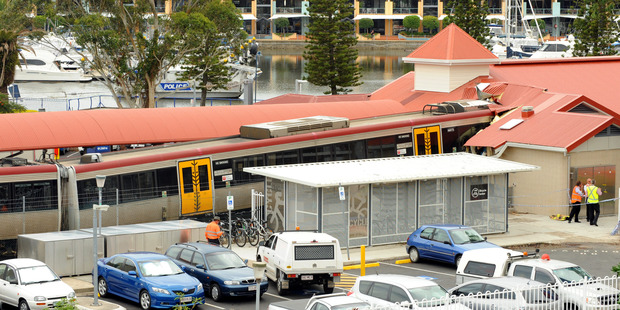 A passenger train has run off the tracks and smashed into a station toilet block in the Brisbane suburb of Cleveland, leaving passengers with minor injuries and toilet users lucky to escape with their lives.
Thirteen passengers, a driver and a guard were on board when the train's front carriage crashed on to the platform and into the toilets.
Live powerlines came down on the middle of the train, but the passengers managed to exit from the rear with only minor injuries. The men's toilets were all but destroyed.
One woman was trapped inside the women's toilets.
Mikayla Gede heard the crash from outside the station and raced inside with her friend Emily Benson.
They heard a woman trapped inside the toilets crying for help.
Mikayla, 17, and her friend called the ambulance and pulled at the door to rescue her. "We wrenched the door open. The woman got out and said she was okay. It was really smashed up in there."
Benson said she had been about to catch a train on her way to a TAFE college. "If I had gone 10 minutes earlier I could have been on the platform and died," she said.
• Two passenger trains collided in South Africa near Pretoria last night, injuring up to 300 people, 20 seriously. A train driver was trapped in the carriage. The Metrorail trains were on the same line heading towards Pretoria when one train hit the other from behind.
- AAP, AFP