Husband and wife, suspected of once working for Putin, in German court.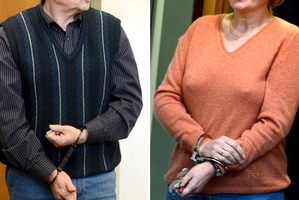 A married couple suspected of reporting to Vladimir Putin when he worked for the KGB in communist East Germany have gone on trial in Stuttgart charged with spying for the former Soviet Union and Russia.
In October last year, Andreas and Heidrun Anschlag were arrested at their home in the quiet university town of Marburg. Heidrun was allegedly decoding Russian intelligence messages when police burst in.
The couple appeared stony faced and silent before judges in Stuttgart's criminal court, where they face charges of spying against the West for both the Soviet KGB and its Russian successor organisation, the SWR, during and after the Cold War.
Their lawyer insisted the couple would remain silent for the duration of their trial. The court heard how they passed on several hundred pages of documents they obtained from a Dutch official in the Foreign Ministry between 2008-11, for which he received over £60,000 ($115,000).
They apparently passed the papers to staff from the Russian consulate general in Bonn via so-called "dead-letter boxes", and communicated with Moscow via satellite phone and by leaving comments on YouTube videos.
Andreas, 51, and Heidrun, 46, moved to West Germany in the late 1980s when Putin was a key KGB officer in the East German city of Dresden. Prosecutors have not ruled out the possibility that the couple worked with Putin when they embarked on their alleged spying career. Both had false Austrian passports - Anschlag's claimed he was born in Argentina, his wife's that she was born in Peru. German intelligence officers are reported to have remarked at Andreas Anschlag's thick Russian accent.
Andreas studied engineering and plastics technology and held down a number of jobs in the German car parts industry before he and his wife were arrested.
There have been suggestions the Germans were tipped off by Alexander Poteyev, an ex-Russian intelligence officer who is believed to have told the FBI about the Russian spy ring involving the agent Anna Chapman which operated in the US until its members were arrested in 2010.
Investigators reportedly found the Anschlags as a direct result of information obtained from interrogating the Chapman ring.
- Independent