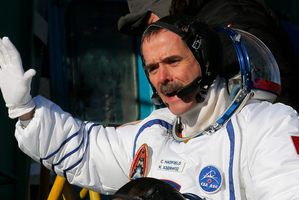 Canadian astronaut Chris Hadfield has been sending tweets from out of this world, conversing with Spock, Sulu, Buzz Aldrin, and Captain James T Kirk.
Hadfield, who is aboard the International Space Station, has been tweeting stunning photos of Earth from space, and answering questions from followers about the mission.
Fellow Canadian William Shatner, who played the Captain James Tiberius Kirk of Star Trek's USS Enterprise, asked Hadfield whether he was tweeting from space.
"@WilliamShatner Yes, Standard Orbit, Captain. And we're detecting signs of life on the surface," Hadfield quipped.
The conversation was then picked up by George Takei who played Hikaru Sulu, who posted the conversation on his Facebook page with the comment "This actually happened".
Hadfield then responded to Takei on Twitter.
"With @GeorgeTakei posting about our space comms, all we need is @TheRealNimoy to beam in and we'd have an away team! :)"
To which Leonard Nimoy, who played Spock, simply wrote "LLAP", meaning "Live long and prosper", a catchphrase from Star Trek.
"I am not Spock either, but living and working in this spaceship comes pretty close. Life mirrors art. LLAP, @therealNimoy," Hadfield responded.
Will Weaton, who played junior officer Wesley Crusher on Star Trek, the Next Generation, waded into the fun.
"If you get into trouble with Nanites while you're in orbit, I know a guy who can help you contain them. He has experience."
To which Hadfield replied: "Wesley, we've talked about you being on the bridge. I believe you're needed in Engineering. :)"
Later on, one of the first two men on the moon, Buzz Aldrin, entered the conversation.
"@Cmdr_Hadfield @WilliamShatner Neil & I would've tweeted from the moon if we could have but I would prefer to tweet from Mars. Maybe by 2040," he wrote.
Shatner responded: "And I would have delighted to tweet you back. So we are 40 plus years too late but it's still a pleasure to Tweet with you."
- Herald Online