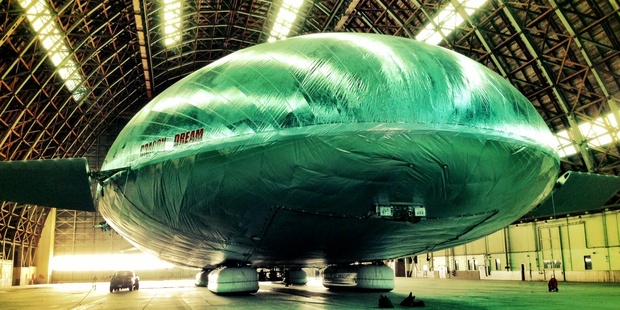 A radical airship which resembles the Thunderbird 2 from the TV show is about to make its first test flight in California.
The Aeroscraft airship funded by the US military and developed by California-based aviation firm Aeros will carry three times as much as the biggest military cargo planes over thousands of kilometres, use a third of the fuel, can take off vertically and doesn't need a landing strip.
They have built a 77m prototype which they hope will allow them to fine tune their systems.
It is half the size of the final model but has been built with the same rigid structure, flight control systems and landing gear.
The finished version - expected to be ready in three years - will carry 66 tonnes at a speed of 120 knots, up to 5,500m with a range of 3000 nautical miles.
That could revolutionise air transport, opening up remote areas where there is practically no other means of access.
Previous airships have been held back by the need to weigh them down or tie them up while cargo is unloaded. But the airship's internal ballast system allows operators to control buoyancy by compressing the helium in its tanks to make it heavier than air.
Once cargo has been loaded, the airship can rise by re-releasing the compressed helium into its containment tanks.
Count Ferdinand Graf von Zeppelin built the first airship in 1900 as a weapon for Germany. The 'Graf Zeppelin' developed by Dr Hugo Eckener was flown around the world in 21 days in 1929.
The Nazis funded the largest airship, the Hindenburg, which burst into flames on a 1937 trip to the US, having been filled with hydrogen instead of helium.