Fires already burning out of control as authorities warn of health risks.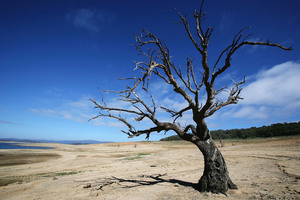 With searing desert winds pumping superheated air across the southeast of the continent, even reaching across Bass Strait to Tasmania, Australia will again wake this morning a spark away from disaster.
While a late southerly change is forecast to bring brief respite to the coastal fringe from Adelaide to Sydney, most of the interior will continue to be scorched by temperatures soaring well into the 40s. Total fire bans have been declared across most of the eastern states as vast tracts have been declared at catastrophic, extreme and severe levels of fire risk.
Late yesterday emergency warnings were issued for fires burning out of control in Tasmania, South Australia and Victoria and emergency crews backed by water-bombing aircraft tackled dozens of smaller outbreaks in Queensland and New South Wales.
Several homes were reported to have been lost at Dunalley and Copping, southeast of Hobart, and others were under threat near Finnis in SA.
Police have been tracking known or suspected arsonists - a key cause of major fires - and warned people to take extreme care after a discarded cigarette and a car crash sparked grass fires in SA.
Authorities are also warning of potentially lethal health risks as the heatwave tightens its grip. They also advise against sheltering under gum trees, which drop large limbs without warning to cope with the heat.
And there is no early end in sight.
Bureau of Meteorology assistant director of weather services Alasdair Hainsworth said the heatwave would continue unabated well into next week over about 70 per cent of the continent. A slow-moving weather pattern, accentuated by the absence of a monsoon in the north, is pumping extremely hot air from the centre, driving soil temperatures up and further increasing surface temperatures.
"Breaking the heatwave cycle will require a combination of the onset of the rain-bearing monsoon trough and the penetration of cooler Southern Ocean air masses," the bureau's acting SA director, John Nairn, said.
"Severe heatwave conditions across the interior of Australia are set to continue for a while yet."
The threat of devastating fires has grown as the pattern ominously follows the buildup to the 2003 Canberra bushfires that killed four people and destroyed more than 500 homes in the national capital.
It also tracks the lead-up to Victoria's 2009 Black Saturday disaster that left 173 people dead and incinerated hundreds of houses, farms and businesses.
Temperatures have been extreme: 44C in Adelaide yesterday, 41C in Melbourne, a record 41.8C in Hobart, and the high 30s in western Sydney and Canberra.
In Tasmania, major fires late yesterday continued to rage out of control, shooting sparks hundreds of metres ahead of the main fronts to leapfrog towards homes in their path.
Dunalley resident Peter Crocker told ABC radio an out-of-control fire that began at Forcett had swept through local homes: "I know of at least two houses between myself and Dunalley that have been lost and I know of a couple of houses at Copping that have been destroyed by fire."
The town and nearby areas were evacuated as the firestorm neared.
The Heart Foundation warned that people with heart disease or who were taking medicines for blood pressure or excess fluid, such as diuretics, were at higher risk of falling ill, heart attack and death.
There were also fresh warnings about leaving children in cars where, even with the windows down, temperatures can soar to lethal levels within minutes.

Punishing heat
44C: In Adelaide yesterday
41.8C: In Hobart
41C: In Melbourne, a record