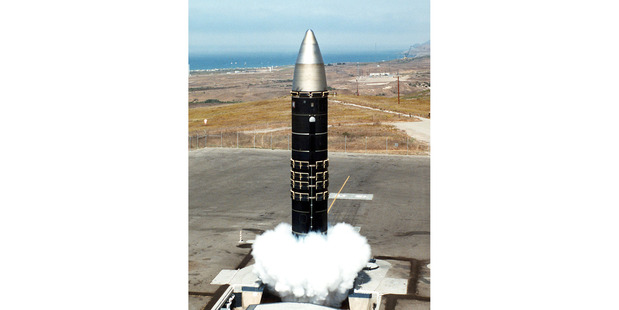 Nuclear weapons and the United States alliance were causing Australia more than its share of grief in 1985, Cabinet documents by the National Archives of Australia reveal.
Prime Minister Bob Hawke's Labor Government was trapped by the commitment of its Liberal predecessor to America's controversial programme to develop the new MX intercontinental ballistic missile, whose planned deployment threatened to heighten nuclear tensions with the former Soviet Union.
The MX programme originally included 200 of what became the most powerful missile in America's nuclear arsenal, each armed with 10 warheads and transported on a circular rail track between 4600 silos to confuse Soviet war planners. It was later pruned to just 50 missiles, which were withdrawn from service by 2005.
In 1981, Malcolm Fraser's Liberal Government secretly agreed to support the programme with the splashdown of two missiles about 200km off eastern Tasmania.
Although the succeeding Labor Cabinet had not formally considered the plan, Hawke confirmed Australian participation when he visited Washington after his election in 1983.
But by 1985, when the tests grew closer, the politics had turned sour.
Opposition to nuclear weapons and uranium mining was widespread: the Nuclear Disarmament Party had won 7 per cent of the vote at the last election.
In January 1985 Hawke's Cabinet agreed that it was bound to the MX tests as long as the missiles landed in international - rather than Australian - waters and that no further commitment would be made without consultation with the South Pacific Forum, which at that stage was developing its nuclear-free zone.
That February Hawke's public announcement that US aircraft monitoring the tests would be allowed to land in Australia created a storm of protest, which he later relayed to the US at meetings in Washington.
The US decided to press on without the use of Australian support facilities.