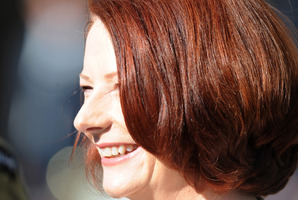 Australian Prime Minister Julia Gillard has rebuked one of her MPs after he called senior Liberal Julie Bishop "a narcissistic bimbo".
Victorian MP Steve Gibbons tweeted: "Libs are led by a gutless douchebag and a narcissistic bimbo who aren't fit to be MPs let alone PM and Deputy. Both should be sacked."
His tweet came as Cabinet minister Craig Emerson was demanding that Bishop resign or be sacked for lying about how many times she'd spoken to notorious former union bagman Ralph Blewitt last week about the AWU slush fund scandal.
The tweet was quickly criticised by fellow Labor MPs and, later, by Gillard.
A spokesman for the Prime Minister said she had "made clear to Mr Gibbons that his remarks were offensive and he has rightly apologised".
After a Twitter backlash, Gibbons tweeted: "Apologies to those offended by my use of the word Bimbo. I'll replace that word with Fool."
An hour later he added: "To all of those offended by my Tweet posts this morning - I unreservedly apologise."
But the federal Opposition was demanding more than a simple "sorry". Status of women spokeswoman Michaelia Cash said the Prime Minister should force Gibbons to stand down as deputy chairman of a parliamentary committee.
Gibbons has a history of making colourful statements. He called Kevin Rudd "a psychopath with a giant ego" during the former PM's leadership challenge in February.
Bishop on Tuesday said she coincidentally met Blewitt in Melbourne on Friday for about 10 minutes. But it was reported the Liberal frontbencher also spoke to Blewitt by phone last Wednesday while she was in Perth. Emerson said that if the report were correct Bishop had lied and should either be sacked or resign.
Bishop yesterday said she had never telephoned Blewitt and he had never phoned her.
But she said that "earlier last week" former Sydney radio host Michael Smith, who had set up the Melbourne cafe meeting between Bishop and Blewitt on Friday, had called her while she was driving in Perth and said he was at dinner with someone who wanted to speak to her.
"That person did not identify themselves and said he was pleased that the AWU fraud was being raised in Parliament," Bishop said. "I said that would continue to be the case and my mobile phone dropped out at that point. Michael Smith did not call back and I do not know to whom I spoke."
- AAP