President's Asia tour underscores foreign policy shift eastwards to counter China.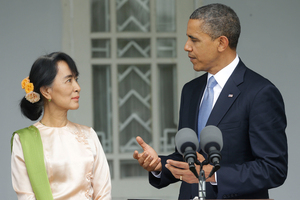 Authorities in Burma were rewarded yesterday for their fast-paced reforms with a historic visit by the United States President. But rights activists warn he may have been sending the wrong message.
They said before Barack Obama's trip that unless he pressed the Government to complete the journey to real democracy, his visit would be an "undeserved seal of approval" for the military's continued domination.
On what was portrayed as a deeply significant trip to Asia to cement ties and underscore a shift of US focus eastwards to counter growing influence from China, Obama became the first sitting US President to travel to Burma. Burma has long aligned itself with Beijing but some there fear China is taking advantage of its wealth of natural resources and that the country is looking for other partners to help build its nascent economy.
Obama said in Thailand yesterday that Burma still had work to do but that progress was being made.
"This is not an endorsement of the Government," he said as he opened his three-country dash through Asia.
"This is an acknowledgement that there is a process under way inside that country that even a year and a half, two years ago, nobody foresaw."
The US believes the Government, headed by President Thein Sein, has embarked on a transition towards that democracy. But campaigners say the transformation is far from complete and there were many issues Obama needed to raise during his six hours in the country, when he met Thein Sein and the opposition leader, Aung San Suu Kyi.
The day before Obama arrived, Human Rights Watch issued new satellite images that apparently showed the extent of violence in western Rakhine state. They also accused security forces of supporting some of the violence - against Rohingya Muslims that has forced tens of thousands from their homes and left dozens dead.
The White House says Obama's visit to Burma ought not to be seen as a celebration of victory but as an encouragement towards more reforms. "I'm not somebody who thinks that the United States should stand on the sidelines and not want to get its hands dirty when there's an opportunity for us to encourage the better impulses inside a country," Obama said. But campaigners are concerned the West has little remaining leverage. Most Western sanctions against the country were suspended this year after a byelection that saw Suu Kyi and dozens of her colleagues from the National League for Democracy take their places in the Parliament.
But hundreds of political prisoners remain behind bars and the constitution reserves 25 per cent of seats in Parliament for military officers.
Brad Adams of HRW said Obama should call for the release of political prisoners and for legal and constitutional reform.
- Independent