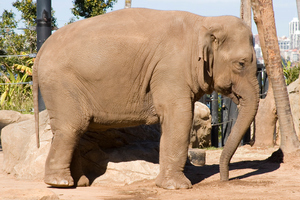 A female keeper is in a critical condition after being crushed by a young elephant during a training session at Sydney's Taronga Zoo.
The routine training session was underway shortly before 11.30am local time today in the zoo's elephant barn when a young male elephant pinned the woman against a bollard.
"Two other keepers in an adjoining stall responded to her call and moved the elephant away," Tarango Zoo said in a statement.
An ambulance was immediately called and took the injured woman to Royal North Shore Hospital.
"The zoo is waiting for confirmation about her condition from the hospital," the statement said.
An ambulance spokeswoman said paramedics had been told the woman had suffered chest and back injuries and was unconscious and had stopped breathing when paramedics arrived on the scene.
It's also been reported the keeper went into cardiac arrest after being attacked by the elephant.
A spokeswoman for Royal North Shore hospital said she was being attended to at its emergency department.
Senior Taronga Staff have accompanied the keeper to the hospital to provide ongoing support.
An investigation has been immediately launched into the incident and what may have prompted the elephant's reaction.
"It's unknown at this time why the young elephant challenged the keeper," the zoo said in a statement.
It said the public were not at risk at any time and the elephants are now in their paddock.
- AAP