10 years on from the beach-resort carnage that killed 202 - including Kiwis, Australians, Indonesians and Britons - security crackdowns and international co-operation in tracking down terrorists have lowered the pitch of fear.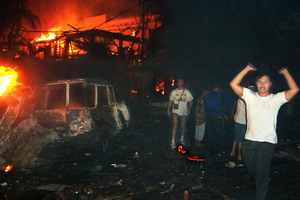 At 11.05pm central Indonesian time on October 12, 2002, two bombs tore our region apart.
The first was detonated by a suicide bomber inside the packed Paddy's Pub in Bali's Kutar district. Seconds later another exploded inside a Mitsubishi van at the nearby Sari Club.
The bombs killed 202 people, including New Zealanders Mark Parker and Jared Gane, both 27, and Jamie Wellington, 31. Among the dead were 88 Australians, 38 Indonesians, 24 Britons, and young holidaymakers from 20 other nations.
The imagery of the aftermath remains brutally vivid. Exhausted volunteers on the steps of hospitals, worrying that medical supplies were running out; numbed survivors trying to make sense of the carnage; container loads of body bags; parents and friends torn by grief; silent mourners by the hundreds, shuffling by candlelight through the ruins at night ...
The tragic devastation of America's ground zero in 2001 shocked countries that had seen the rising threat of violent extremism but had not yet accepted the reality: terrorism had emerged with a ferocity that caught New Zealand, Australia and Southeast Asia unprepared and dangerously vulnerable.
A decade on much has changed. International co-operation in counter-terrorism has tracked and punished the bombers. Terror networks and cells have been broken, many of their leaders killed or jailed. The dominant jihadist group Jemaah Islamiyah, responsible for the Bali bombings, has splintered and diminished.
New intelligence systems and heightened security have lowered the pitch of fear. In May, Australia lowered its threat advice for Indonesia from high to medium for the first time since September 2002, warning an attack could occur but that the risk was no longer extreme.
The complacency that underlaid the pre-Bali region, despite all the warnings, has evaporated.
Before the bombings the local and international building blocks of local jihadism were known, but not fully absorbed.
Globally, Islamic extremism spread through the 1970s and the later resistance to the former Soviet Union's occupation of Afghanistan. Locally, the mantle of Indonesia's radical Darul Islam that emerged from Java half a century earlier had been adopted by the new Jemaah Islamiyah as it covertly evolved into the dominant regional terrorist network.
As Jemaah Islamiyah expanded through Indonesia, Malaysia, Singapore and the Philippines, it formed links with al Qaeda, with ambitions for a pan-Islamic state arcing from Thailand to Indonesia.
This was fertile territory. Booming Southeast Asian economies provided the finance. Intelligence co-operation was too thin to track and understand the growing menace. And governments were too slow to accept that the cancer was moving through their societies.
Paddy's Pub and the Sari Club changed all that. The political and security shockwaves from the bombings reverberated through every country in the region, reshaping not only their own responses but also the regional and global intelligence, military and law-enforcement network.
Australia, already more advanced and effective through long-established ties to the United States, Britain, Canada and New Zealand, moved rapidly to further bolster its own defences.
Security has been dramatically tightened at ports, airports and key public buildings and facilities. New special counter-terrorism units have been formed in the military and federal and state law agencies. Intelligence co-operation has been improved and dramatically expanded.
Funding and resources have been pumped into the domestic spy agency the Australian Security Intelligence Organisation and its foreign counterpart, the Australian Secret Intelligence Services, which has moved far beyond its traditional Western allies to forge a network with 170 agencies in about 70 countries.
Canberra has also produced a welter of counter-terrorism papers and plans, and a raft of new or amended laws providing security and law agencies with powers so wide they have been condemned by human rights and civil liberties advocates.
More than 40 people, including cells in Sydney and Melbourne, have been charged with planning terror attacks, some involving mass deaths and injuries.
Across the region, increasing co-operation and concerted action has hammered JI and other groups. Indonesia has tracked, arrested, convicted and killed large numbers of leading jihadists, most recently five key members of the Jamaah Ansharut Tauhid organisation who were gunned down in a raid in Denpasar, Bali, in March.
Similar crackdowns have decimated the ranks of JI and affiliated groups in Malaysia, Singapore and the Philippines.
International networks and counter-terrorism centres and bodies have mushroomed. Indonesia, Malaysia and Singapore are working together to boost security in the vital Strains of Malacca, and Asean nations have signed a Counter-Terrorism Convention and a Mutual Legal Assistance treaty.
Governments and Islamic leaders are also countering jihadist ideology and propaganda as attitudes swing against violence and religious emphasis focuses on tolerance. Singapore's Muslim Religious Council regulates religious teachers and works to rehabilitate militants.
But the threat remains clear and present. While JI has been largely dismantled, its supporters have splintered into new groups and loose affiliations with effective recruitment, indoctrination and training programmes.
ASIO director David Irvine warned in his most recent report to Parliament: "The threat of a terrorist attack in Australia or against Australian interests in a number of countries overseas is real and will remain so into the future."
Despite the regional crackdown after Bali, jihadists continued their carnage: the 2003 JW Marriott bombing in Jakarta that killed 12 people, the attack on the Australian Embassy in Jakarta in 2004 that left 10 dead, the 26 people killed in the 2005 Bali bombings, and the 2009 JW Marriott and Ritz Carlton hotel bombings that killed seven.
Indonesia's embassy in Paris has twice been rocked by bombs. An al Qaeda cell in the Indonesian province of Aceh planned to assassinate President Susilo Bambang Yudhoyono and launch a 2010 Independence Day mass killing in Jakarta.
In Thailand a JI cell was broken before it could carry out planned suicide bombings.
Their agenda continues to be promoted by anger against the West in Afghanistan and Pakistan, the global reach of Middle Eastern terrorists, the emergence of cells driven by jihadist ideology but not affiliated to known groups, and the frightening radicalisation of "lone wolves" - home-grown terrorists.
Militants use the internet and social media to push ideology and planning, and exploit gradually expanding free speech in the region. Funding is funnelled through front companies, charities, loosely regulated banks and links with organised crime. Individual cells undertake robberies, extortion, kidnapping and other crimes.
For as far as anyone can see, terrorism is here to stay.