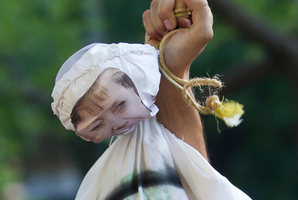 Almost daily, Europe faces questions on whether its once-vaunted single currency can survive, and anti-European Union rumblings echo in capitals where governments are cutting spending in exchange for a bailout from Brussels or to satisfy its scrutiny of the national deficit.
The European Union is in the thick of its deepest crisis - and at its core is whether the EU's design, based on shifts of power from sovereign states to the centre, is fatally flawed.
Yet even in the midst of this turbulent debate, a powerful bloc is saying the answer to Europe's problem is not less integration, but more.
Last week, 11 out of the 27 EU nations appealed to save the guttering flame of federalism.
"In many parts of Europe, nationalism and populism are on the rise, while the feeling of solidarity and sense of belonging in Europe are dwindling," the so-called Future of Europe Group said.
"We have to take action to restore confidence in our joint project."
The eight-page blueprint issued in Warsaw calls for closer economic and monetary governance across the EU, including a single supervisory body for banks and closer inspection by Brussels of national budgets and economic strategies. More decisions in the Council of Ministers, the highest political authority in the EU, would be made by majority vote, thus preventing a single country or minor bloc from torpedoing European laws.
It says a European army could "eventually" be created and recommends a European border police force to man the EU's external frontiers. It demands a "comprehensive and integrated approach" to foreign policy, one with more "coherence" and "clout". "The EU must take decisive steps to strengthen its act on the world stage," it says.
The declaration was signed by Austria, Belgium, Denmark, France, Italy, Germany, Luxembourg, the Netherlands, Poland, Portugal and Spain, but says (without specifying) not all countries were in favour of all of the proposals.
Underpinning it is the belief that further integration is the only way forward, said Thomas Klau of the European Council on Foreign Relations in Paris.
To go backwards would invite fragmentation of the EU, fuelling rivalry between its members and allowing Europe to be picked off by the United States and China.
Even to leave things unchanged would be a mistake, because it would leave Europe with a ponderous decision-making system in a world where changes happen so quickly.
"The eurozone crisis demonstrated with lethal force that Europe's existing instruments of government are just not good enough to give the eurozone the speed of decision-making needed to weather the latest financial storm," Klau said.
Without further unity, said German Chancellor Angela Merkel, Europe was vulnerable. "We can only have a say in the world if we are united in the European Union," she told reporters in Berlin.
"It is extremely important that Europe draws closer together, because individual countries cannot have as big an influence with their own voices as when we act together."
One ambitious recommendation is for citizens to directly elect the president of the European Commission, the powerful executive, which oversees a budget of €147 billion ($229 billion) and enforces EU laws. He or she would also appoint his or her own team of commissioners.
At present, the commission chief - currently Jose Manuel Barroso - is selected by member states, which each have the right to nominate a commissioner. The panel must be approved as a whole by the European Parliament.
But the arrangement is often criticised. The commission president is by necessity a consensus candidate, and commissioners are frequently party loyalists, cronies or discards who are shipped off to Brussels.
"Direct elections [of the commission president] would create a much more immediate connection with the electorate," said Klau.
"Also, if you have a pan-European election campaign, you propel European elections into a dimension where transnational politics become dominant, which is a mutation that is already under way. This would be a very significant step."
The timing of the Warsaw proposals is important, because it gives its supporters a three-month advantage in shaping the debate on Europe's future.
A rival roadmap is being drafted by Barroso; Herman Van Rompuy, head of the EU's Council of Ministers; Mario Draghi, the European Central Bank (ECB) chief, and Jean-Claude Juncker, who chairs the eurozone finance ministers. It is due to be presented at an EU summit on December 13.
But how much more integration can Europe take right now?
Not a lot, say many analysts.
Indeed, eyeing dissatisfaction with the European project in many countries, the Warsaw declaration is hedged with "let's-not-rock-the-boat" tones. It also makes it clear that, in any case, priority will go to resolving the euro crisis before any political reforms.
Stefan Lehne of the Carnegie Europe thinktank in Brussels said that the ideas faced many obstacles.
The 11 countries in Warsaw had a long pro-federalism tradition, he noted. In former communist eastern Europe, only one country - Poland, the host - sent an envoy.
Another big absentee was Britain, which has snubbed the euro, dislikes the idea of a European army and opposes supervision of its financial industry. Euro-scepticism in Britain has become even more entrenched since the euro started to founder.
"This is a contribution from relatively reform-oriented countries who want to give the debate on political union - so far fairly abstract - more substance," Lehne said. "It is also a product of foreign ministers who lost a lot of relevance in the integration process in recent years. They want to show that they still count."