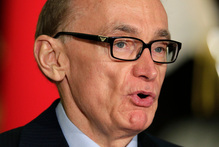 Australian Foreign Affairs Minister Bob Carr denies misleading Australians on the nation's chances of securing a position on the United Nations Security Council.
Senator Carr and Prime Minister Julia Gillard have led an Australian contingent in New York this week championing the country's bid for a 2013-14 seat on the influential body.
The duo has insisted that Australia's chances to secure one of two seats, also sought by European front runners Finland and Luxembourg, are uncertain.
An editorial published by The Australian newspaper on Thursday claiming the $24 million campaign has the Council seat "in the bag" is unfounded, Senator Carr told reporters in New York.
"I would love that interpretation to be true, but no diplomat working for us in Canberra or here has said anything like that. None of them have said anything different from the fact that, at best, it's going to be close," he said.
Both the European competitors entered bids for the Council many years prior to Australia's 2008 launch, by which time Senator Carr said the pair had already secured the support of many nations.
"There are a much higher level of commitments and therefore people saying no to Australia, than there would be in other circumstances," the minister said.
The editorial suggested the government had downplayed Australia's chances to make a victory at the October 18 election more heroic.
"I can just say to you, hand on heart, that I've received no advice in my seven months in this job, from ... people in Canberra or the mission here, that says what The Australian said yesterday - that we've got this in the bag and that when I talk to you about how uncertain it is, I'm going through some sort of charade. I'm not," Senator Carr said.
The UN's 193 member states will be polled in a secret ballot to decide Council seats next month.
- AAP