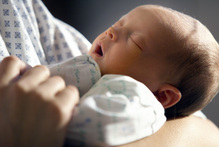 Babies born to older mothers are no more likely to suffer health problems later in life than those with younger ones, researchers claim.
In recent years, studies appear to shown that such children were more at risk of developing Alzheimer's, cancer and diabetes.
Scientists speculated that this was because the eggs from which they developed were less healthy.
But German researchers have cast doubt on the theory and say that the mother's education and number of years she is alive are far more important.
Professor Mikko Myrskyla of the Max Planck Institute for Demographic Research, in Rostock, looked at data on 18,000 adults in the United States.
He found that those whose mothers had been aged 35 to 44 were no more likely to die, be obese or suffer from long term health problems as adults than those born to women aged 25 and 34.
In fact children born to teenage mothers or those in their early twenties were far more likely to be ill as adults, he found.
Those whose mothers were between 20 and 24 were 5 per cent more likely to be unwell than those born to women aged 25 to 34.
But children born to mothers who were between 14 and 19 were 15 per cent more likely to have health problems in adulthood.
Professor Myrskyla claims that it is not so much the bodies of older women who influence their children's health, but rather their education and how long they survive.
He said: "With respect to adult age early births appear to be more dangerous for children than late ones."
Although older women have a higher risk of miscarriage and their babies are more likely to be born with Down's Syndrome, he said 'biological aging' did not have any other effects.
The research is published in the journal Demography.
-Daily Mail