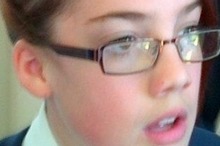 The family of a 12-year-old British girl who disappeared as she headed off on a shopping trip made a public appeal for help after examination of CCTV footage failed to uncover any sign of her.
Tia Sharp, who had never been missing before, was last seen leaving her grandmother's home on Saturday after telling relatives she was going to buy some shoes in nearby Croydon.
Police said they had received 55 unconfirmed reports of sightings.