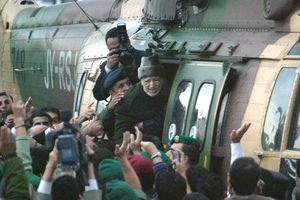 Palestinian officials raised the prospect of exhuming Yasser Arafat's body after a Swiss laboratory said it had discovered an "unexplained" level of the radioactive element polonium on personal belongings of the late President.
The discovery during a nine-month investigation by the Arab satellite channel Al-Jazeera could prove the most plausible evidence yet to fuel long-standing but uncorroborated rumours among many Palestinians that Arafat was poisoned.
The potentially deadly element - the same one blamed for the 2006 death in London of the former Russian spy Alexander Litvinenko - was discovered among personal effects, including clothes and a toothbrush, given to the network by Suha Arafat, the late Palestinian leader's widow.
Suha Arafat, who refused to allow an autopsy when her husband died in a Paris hospital in November 2004, said yesterday that she would be asking for an exhumation, telling Al-Jazeera: "We must go further and exhume Yasser Arafat's body to reveal the truth to the Muslim and Arab world."
And a statement issued by the office of the Palestinian President, Mahmoud Abbas, Arafat's successor, said: "The Palestinian Authority was and remains fully prepared to co-operate and to provide all the facilities needed to reveal the real causes that led to the death of the late President."
While the statement stopped short of explicitly promising an exhumation, it added: "There are no religious or political reasons that preclude research on this issue, including an examination of the late President by a reliable national medical body, upon request and approval by his family."
The report is likely to trigger fresh speculation over the cause of Arafat's death and the three-week illness that preceded it after his doctors announced he was suffering from "flu".
It explained that the samples of polonium-210 were from belongings procured from Suha Arafat - including the Fatah founder's underwear and his iconic keffiyeh - and stained with his blood, sweat, saliva and urine. The report said it found that alternative explanations for the death - including that he had cancer, cirrhosis of the liver or Aids - were untrue.
Francois Bochud, director of the Institute of Radiation Physics in Lausanne, Switzerland, which made the discovery, suggested that an exhumation might establish whether Arafat was poisoned.
"What we can say is that we have an unexplained level of polonium, so this clearly goes towards the hypothesis of a poisoning, but our results are clearly not a proof of any poisoning."
Israeli officials have always denied any part in Arafat's death, and yesterday Dov Weisglass, chief of staff to Prime Minister Ariel Sharon at the time, said that assassinating the Palestinian leader had never been considered. He said Sharon opposed killing Arafat because "he didn't think his physical extermination would help. On the contrary."
- REUTERS quoted Darcy Christen, a spokesman for the Lausanne institute, as saying that the clinical symptoms described in Arafat's medical records were not consistent with polonium-210 poisoning. Some Palestinian officials suggested yesterday that an exhumation might be conducted only if requested by a full international inquiry into Arafat's death, which they have demanded.
- Independent