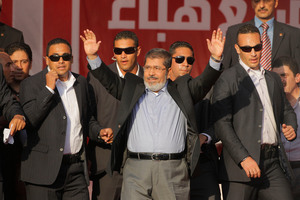 There were genuine tears of joy in our house when Hosni Muburak finally stepped down. The Egyptian flag was flapping jubilantly outside our Howick home.
There was a great sense of pride in the dignified manner of those early demonstrations in Egypt last year. Men and women from all tiers of society as well as Muslims and Christians joined hands to fight for democracy and there was an infectious feeling of hope.
I know I won't be the only New Zealander with close ties to Egypt who is keeping a keen watch on the country's political fortunes. I married an Egyptian in 1974, lived there for four years and have returned on many occasions.
As the new Muslim regimen struggles with a country in huge conflict, what is the future for 82 million inhabitants in this beautiful and chaotic place?
And what about the Westerners married to locals who enjoyed the "relatively open" society of Egypt?
What about the ancient history buffs or the ordinary tourists with a life-long aim to see the Great Pyramids of Giza? Will we still be welcome?
Sadly, many liberal Egyptians found new meaning in the expression "between a rock and a hard place" when it came to voting for their first democratic presidential election.
The choice was between more of the same with remnants of the old corrupt leadership (Ahmed Shafiq, the other contender, was a Muburak supporter) and the fear of a government lead by Islamists in the Muslim Brotherhood under Mohammed Morsi.
Potentially exciting and moderate leaders who were there in those heady days of Tahrir Square demonstrations seemed to have disappeared.
I lived in the heart of Cairo - in an old neighbourhood within a few minutes walk of the now-iconic Tahrir Square. I loathed the place at first. But, give it time and Egypt slowly seeps into even the most resistant soul.
I arrived in a country with an infrastructure that was totally fractured following the 1973 war. The telephones were terrible, electricity and water cuts occurred daily and the streets were choked with traffic.
Like most visitors, I suffered the discomfort of the infamous upset stomach and endured the annoyances on the streets from the uneducated types who think all Western women are prostitutes, and the endless calls for baksheesh (tips) from the kids who believe we're all rich.
Fresh from egalitarian New Zealand, I couldn't believe the corruption, the huge gap between the rich and poor and the general sense of helplessness among some very well-educated people just striving to survive financially - even back then, 38 years ago.
I was heartened by the Egyptians' fortitude, their hospitality and robust sense of humour. Where else when it's 40C and you're in traffic that's gridlocked for miles do the locals throw their arms in the air and laugh?
But they're also a volatile race and, like so many others, I expected an Arab Spring to happen years ago.
Returning to Egypt during the 80s, 90s and recent years, I have seen great improvements in the roads, transport system and communications and the development of many new satellite cities.
I noticed the chasm between rich and poor was growing, and from the late 1980s the influence of the Islamic Revolution in Iran began rippling through Egypt.
In the 1970s Western influence had ruled and only about 50 per cent of women wore hijab, in the 1980s a large majority had "taken to the headscarf" and an increasing number were going to the extreme of covering their faces and wearing gloves.
There were many other subtle indications of a growing trend towards fundamental Islam - predominantly among the poor.
About 90 per cent of Egyptians are Muslim and the remaining 10 per cent are Christian. I worked in an office where there was a good mix of both and never saw any acrimony. It was also accepted that I'd married a Muslim but had no intention to convert.
I always felt very safe and secure in Egypt with a caretaker guarding each building (and ruining many budding romances) and a very strong police presence on the streets.
But much has changed since the Arab Spring. Petty crime has been rife, the police largely absent, and there have been problems between Muslims and Christian groups - especially in southern Egypt which has a higher percentage of Christians.
Dr Mohammed Morsi, educated in the United States, is an engineering professor and is reported to be committed to a pluralistic democracy. But, he's also been quoted as saying that the prime role of the state lies in enforcing sharia and spreading Islam.
So many will be pinning their hopes on his leadership, hoping the corruption, poverty and lack of freedom of the old days will be history. Let's hope too that women's rights will improve along with the literacy figure of 71.4 per cent and a moderate Muslim leadership will mean we can still enjoy a good beer (made there under licence) while watching the sun set over the Nile.
Debate on this article has now concluded.</strong>