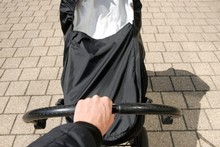 A woman has tried to snatch a young baby from the arms of her young mother at a shopping centre in Sydney's southwest.
Police said a 20-year-old woman was walking to her car inside a car park on Kellicar Road, Campbelltown, with her 15-week-old son about 4.45pm local time yesterday.
She was carrying the baby in her arms and he was secured with a shoulder sling.
The mother was then confronted by a thin woman with long brown hair who grabbed hold of the baby and tried to take him from his mother's arms.
But she was unable to take hold of the baby and ran from the car park, police said.
The mother and her baby suffered minor scratches.
Police established a crime scene, which was examined by forensic specialists.
The woman has been described as being of Caucasian appearance, 27 to 29 years of age and 165cm tall.
- AAP