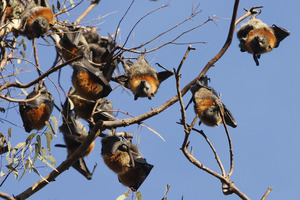 For two decades, Sydney's Botanical Gardens have played host to a large colony of flying foxes. But the bats have been ill-mannered guests, destroying dozens of valuable trees. Now they face eviction.
After trying other techniques without success, wildlife staff are bombarding the giant bats - which weigh about 4kg and have a 3m wingspan - with all manner of unpleasant noises. The hope is that the abrasive, computer-generated sounds, played through loudspeakers mounted on golf buggies, will persuade them to leave the gardens.
The grey-headed flying foxes, which dislodge leaves and shoots as they roost, have killed nearly 60 trees and palms, including some irreplaceable species. Another 60 are in a critical condition, and expected to die in the next five years.
This week - after a two-year delay caused by legal challenges and the need to secure approval - the aural onslaught began. The 5000 or so bats, classed as a vulnerable species, are now being subjected to industrial-style and other noises, including whistles and the clanging of dustbin lids, twice a day, just before dawn and at sunset.
The din drove the furry-faced creatures away on Monday evening, but they returned yesterday morning. John Martin, the gardens' wildlife officer, said it could take several weeks before they moved on permanently. He hopes they will migrate to one of a dozen other colonies dotted around the Sydney area. A hundred have been fitted with satellite collars to track their movements.
In the past, methods as varied as shining strobe lights into the bats' faces, attaching plastic bags to trees and discharging rancid odours in their vicinity have been used. None worked. The noise plan proved effective when it was used in 2003 by Melbourne's Royal Botanical Gardens, which had a similar problem. The bats have hypersensitive hearing.
Currently, their ears are being assaulted for 45 minutes in the morning and half an hour at night. Martin said the noise level and duration would be stepped up if necessary. "It's a gradual process, and we can't be certain how long it's going to take."