Thousands of Kiwis packed the Oz Jobs Expo this week. There were queues at the Australian consulate's new expanded immigration counter. But the Aussie dream portrayed by The GC television show has a darker underside. We discover all that glisters is not gold.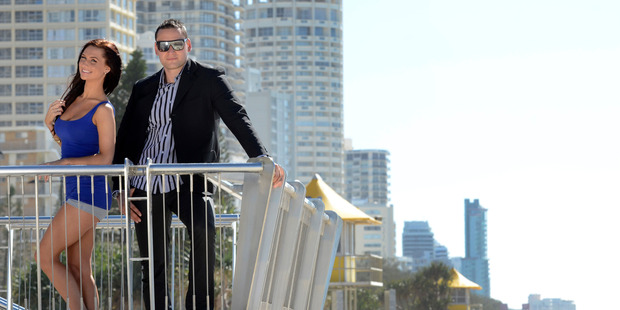 Kiwi reality stars Jade Ruwhiu and Rosanna Arkle are hurrying along The Esplanade at Surfers Paradise. They are running a bit late and Ruwhiu is apologetic about the way he looks. He's come straight from the office, in a dark jacket and long trousers, and knows shorts would have been better for the photos.
His tattooed arms are covered by a smart striped business shirt, open at the collar. The 24-year-old moved to Australia about five years ago after a tilt at playing rugby in Italy didn't work out because of injury and homesickness.
"I went back to New Zealand, got a job as a farmhand in Hawke's Bay," he says.
"I loved it, but I knew I wanted to do more with my life." Now, he owns 11 investment properties and has set up a few of his expat friends from The GC as well. And he's still got time for a walk on the beach.
It's a perfect autumn day for the beach: a clear blue sky and just a slight breeze.
The tourists are out, a couple of meter maids in gold bikinis and high heels stroll along the beachfront promenade and the high rises look down on a few surfers. This is Surfers at its best, without the summer crowds.
Arkle, 23, is in short denim shorts and a vivid blue singlet top. Her long hair, blonde in the TV show, is closer to her natural dark brown. She's edgy for the photographer to finish as she'll be running late for another appointment but, like a professional, she doesn't complain and takes up another new pose. It's only last week, she says, that the girls from the cast were here for a "Kardashian-style" photo shoot on the sand.
The beachfront highrise apartments that form the backdrop to the beach may be the stereotypical face of life on the Gold Coast but the influx of New Zealanders to the region includes families who set up home in the sprawling far-flung suburbs, away from the beach and the nightclubs.
According to the Australian Bureau of Statistics, most New Zealand born people living in Australia - about 38 per cent - set up home in Queensland and they are three times more likely to live on the Gold Coast than other Queensland residents are.
Popular areas - where about one in 10 residents are New Zealanders - are Surfers and the inland suburbs of Pacific Pines and Gaven. Just down the highway from Surfers, Broadbeach and Mermaid Beach also have high Kiwi populations, as well as those more removed from the coastal strip, Coombabah, Kingsholme-Upper Coomera and Robina, where The GC gang live.
Over coffee and toasted sandwiches Ruwhiu and Arkle are adamant they still call New Zealand "home". But for the foreseeable future they are determined to make their fortunes across the ditch and they're upbeat about the opportunities they've found on Queensland's "Glitter Strip".
Arkle came to the Gold Coast about four years ago, after earning just over $11-an-hour as a junior in the sales team at the Northern Advocate newspaper in Whangarei. She says her move was for the Gold Coast lifestyle - the beaches and weather -and she found it easy to find work as a receptionist and office worker.
Combined with her part-time swimwear and catalogue modelling, she brings in at least double what she was earning in New Zealand -"and that's in Australian dollars". "For selfish reasons, I do encourage my friends to move here," she says.
And is that lifestyle every bit as glamorous as it appears to television viewers? "Yes," says Arkle. "That is our life."
It is the great migration. More than 600,000 Kiwis now live in Australia and the number is growing by the day. About 6000 people packed the Oz Jobs Expo in Auckland last weekend, at which Australian companies were headhunting Kiwi skills and experience.
But is Australia all it's made out to be? Increasingly, there are reports of a growing New Zealand underclass in Queensland and New South Wales, Kiwis who followed a dream that has turned into a nightmare as they discover the jobs are drying up, the Great South Economy is slowing and they have no family or benefit to fall back on.
Ruwhiu warns that it's not always easy for Kiwis seeking greener pastures and fatter salaries in Australia.
"I have known a few people along the way who either don't get work or just turn around and go straight home," he says.
"There is limited work on the Gold Coast. When I first came over here, I had a friend who set me up with a job. What most people don't understand is that you need to know people to get into it."
The propganda posters sucked them in for decades.
"Working Man's Paradise", Australia promised in bold letters. Those visions of sunny skies, fair wages and freedom on a booming continent lured migrants in their millions.
And from the 1960s, New Zealanders joined the migration. In the late 70s, though Muldoon blithely dismissed the exodus as one likely to raise the average IQ of both countries, the flood became a political nightmare.
David Lange, Jim Bolger and Jenny Shipley gritted their teeth through further migration spikes. And since 2008, John Key has veered between promising to raise our living standards to match those of Australia, offering incentives to bring Kiwis back, and now plaintively telling us that, really, Australia ain't that hot.
Key may downplay the exodus, Waikato University's Jacques Poot says it's all about gravity. If Australia is Earth, New Zealand is the moon, caught in its gravitational thrall.
In a Herald on Sunday email survey of nearly 50 expats this week, many wrote glowingly of the cultural activities and big international acts Australian cities offered. Migrants seek opportunities and those opportunities are often linked to population size, says Poot.
For our part of the world, that means the chances of making money and having fun are magnified in the big Aussies cities. It's a universal trend. Inside New Zealand, southerners drift north to Auckland. In Europe, the poorer and more sparsely populated south loses people to the north.
Poot is at pains to avoid calling us the Greece of Australasia but if trends continue, the heartland of Australasia will end up subsidising the fringes: South Australia, Tasmania ... and New Zealand. Depressing? You bet. Inevitable? Probably.
Fellow migration expert Professor Richard Bedford is an optimist. The news often ignores stats showing thousands of Kiwis coming home.
Bedford reminds us we had a net gain of 229,000 migrants from around the world over the past two decades. But for all the migrants we gain, Australia gains more and the Kiwi exodus to Oz shows no sign of slowing. Bedford says increasingly well-educated Kiwis are staying across the ditch for good.
"In the past 20 or 30 years we've had a significant number of senior jobs in many professions in New Zealand moving off to Australia. Banks have been taken over, a lot of law firms, a lot of accountancy firms that operate in New Zealand. Now their big offices are in Sydney rather than Auckland or Wellington," says Bedford. Again, the core cities of the continent exert an irresistible grip.
The new Australian visa office is already busy. It's 10.30am, Thursday. In an Auckland tower building, the queue is about to spill into the hallway.
People of all ages and races clutch their visa applications, hoping for a piece of the action. The few dozen waiting - foreigners using New Zealand as a stepping stone, Kiwi business visa hopefuls-barely scratch the surface. Most New Zealanders will head to the airport, no visa required.
Among the departing is Jason Porter, 39. He's waving goodbye, again, after a short holiday spent with family members who still live here. He calls the Gold Coast home, has no interest in settling back in New Zealand.
Who blames him? The news reports in New Zealand are nearly as grim as the drizzly and dim Auckland weather. Christchurch is still reeling from the quake. The Education Minister says we should expect five extra kids to a class. The New Zealand dollar is tumbling. Dairy prices are skimming a three-year low. Enough, already, says Porter. New Zealand has its strengths but migrants will always take advantage of even better opportunities.
And Kiwis aren't just going to Queensland. If the Gold Coast is the pimply, obnoxious upstart, Sydney is the big daddy, that's where the head offices and the big salaries are. And Perth must be the aloof, once-removed cousin, quietly turning into the Australian economy's engine-room. Anyone who argues isolation is to blame for New Zealand's economic under-achievement should come here.
Western Australia's vast mineral wealth is fuelling booms around the world. Iron ore from the Kimberley Plateau builds cities in China and railways in India. Perth is a long way from any other cities but it basks in prosperity, shows few signs of slowing down and is a huge draw card for New Zealanders.
Lisa Greenem shifted from Napier to Perth 18 months ago. She works for Woodside, a huge oil and gas firm. Her department employs 130 people, 20 are New Zealanders.
"There are a lot of projects going on and they're crying out for workers over here," she says. If poverty exists in WA, Greenem hasn't seen it. If the two-speed economy rule is true, the whole state is in top gear. Sure, beer and restaurant dinners are pricey. Rents are going up. But Greenem earns almost twice as much as she did in Napier. Welfare packages add to the attraction.
"You've got the first home-buyers' grant and the baby bonus that keep people here. The other thing is the compulsory super. It's really hard to give up the money and go back." And of course, there's the very core of the vast Outback: the mining towns.
The GC paints crass excess; Kalgoorlie Cops portrays low-rent drugged, drunken debauchery and sleaze. And the source of all this mayhem, in towns like Kalgoorlie and Alice Springs, is the fast money the mining boom brings.
And here you'll discover the dirty little secret that they don't disclose on the tourism and immigration billboards. The mines are making money, but the numbers are diminishing as the Chinese construction boom recedes and the global economy declines. And little of that money trickles down to the once-glamorous beach towns of Queensland and New South Wales.
The GC, in fact, glosses over the real struggles on in coastal tourist towns like Surfers and Hervey Bay. Back at Auckland International airport, Porter is still waiting for his plane to leave.
With time on his hands, he admits the glitzy tack, orange tans and seemingly endless cash can disguise a rougher underside to the Australian facade. Outside the supercharged mining hubs, much of Australia is sluggish. Social workers report a growing class of New Zealanders who have turned up with no job, no money, no family, and no entitlement to a benefit.
"I think the Coast is struggling a bit," says Porter. "You do see a few lease signs on the shops. It was pretty easy when I was looking for a rental place in August, whereas in some places, like Brisbane, you're queuing or bidding to get a rental. In the Gold Coast, you could turn up and be the only one to look at a place."
What would make him stay here? More than pleas from Prime Minister John Key.
The Herald on Sunday's survey of expats reveals most have gripes about their new lives in Australia but scarcely any are planning a return home.
Even if the Aussie economy goes down the toilet, Porter has a back-up plan. If his aircraft engineering job tanks, he might audition for a role on The GC.