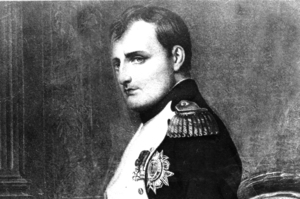 Bastille rather than Australia Day? La Marseillaise instead of Advance Australia Fair? Dancing in the street with the election of President Francois Hollande?
Maybe not. But a new exhibition about to open in Melbourne throws rare light on French travels and ambitions in the great southern land, reflecting deep interest held by Emperor Napoleon Bonaparte and his wife Josephine.
In 1800 Napoleon despatched an expedition to the continent that charted Tasmania and produced the first map of Victoria, officially known to the French at the time as Terre Napoleon despite Britain's colonies.
Scientific teams returned to France with flora and fauna, treatises on its indigenous population and maps and charts.
The hothouse at the imperial couple's rural residence of Chateau de Malmaison, just outside Paris, was planted with Australian species. Kangaroos, emus and black swans wandered among larger Australian flora.
This was early travel promotion at its best.
"World leaders in the age of exploration, Napoleon and Josephine were a true power couple, famous and stylish," said Ted Gott, senior curator international at the National Gallery of Victoria.
Next month it opens its Napoleon: Revolution to Empire exhibition, examining French art, culture and life from the 1770s to the 1820s, with almost 300 paintings, drawings, engravings, sculpture, furniture, textiles, porcelain, fashion and jewellery.
Gott said the exhibits illustrated Napoleon and Josephine's belief that the advancement of knowledge was integral to social order: "They welcomed scientists and artists to receptions and dinners where world affairs were reshaped under their rule."
Which raises an enduring debate over French designs on Australia - were they purely scientific, as one side argues, or did they include potential colonisation, or at least frustration of British settlement?
The Dutch had first briefly touched Australia in 1606 when Willem Jansz spotted Cape York, the English followed with the roguish William Dampier 80 years later and Captain James Cook's voyages - followed avidly by Napoleon - led to the first penal settlements.
But France was also active. Louis-Antoine de Bougainville, sent by King Louis XV in 1756 to search for the fabled southern lands, was the first European to see the Great Barrier Reef; in 1772 Captain Marc-Joseph Marion Dufresne claimed Van Dieman's Land (Tasmania) for France, and Louis Francois de St Allouarn did the same with Dirk Hartog Island, off northern Western Australia.
Jean-Francois de Galaup, Comte de La Perouse, called briefly at Port Jackson (Sydney) a decade later before vanishing into the Pacific, and Bruni d'Entrecasteaux discovered Esperance in Western Australia, the Derwent and Huon Estuaries in Tasmania, charted the coastline and produced the first catalogue of Australian flora.
But it was Nicolas Baudin who linked Australia directly with Napoleon, convincing the Institute of France of the value of a southern expedition and winning the Emperor's approval to sail in October 1800 with two ships, Le Geographe and Le Naturaliste.
Baudin's orders were to explore the coastline of New Holland from the north to the southwest, and the east coast of Van Dieman's Land. He reached Western Australia in May 1801, sailed north to Timor, then returned to Tasmania and a tense confrontation with British rival Matthew Flinders in what is now Encounter Bay.
In his account of the meeting, within weeks of the peace negotiated at Amiens, Flinders wrote that he had cleared the decks of his ship for action and kept his broadside to Le Geographie in case Baudin's flag of truce was a ruse.
In the event the two met in peace and Baudin, with an ailing crew that included only a handful able to man the ship, set sail for Port Jackson.
They arrived with a crew "covered with black scabs ... joints stiffened ... [and] to the leaden colour common to scurvy patients were added swollen gums sticking out of their mouth showing dead patches and other ulcers".
Restored to health, Le Geographie set sail for France in 1803, but Baudin died of tuberculosis on the voyage.
His expedition produced valuable maps and knowledge, but some argue there had been more to the expedition than science. Some historians maintain Baudin intended claiming territory, but had lost to Flinders.
The late John Holland Rose, a distinguished English historian who wrote a landmark biography of Napoleon, wrote that the mysterious Australian continent appealed to the Emperor's imagination, "transformed by French energy into a second fatherland".
Rose claimed Napoleon's motives in approving Baudin's expedition were political, and that Terre Napoleon maps showed that "under the guise of being an emissary of civilisation, Commodore Baudin was prepared to claim half the continent for France".
The equally distinguished late historian and journalist Sir Ernest Scott said such claims had never been proved, with "not a scrap of evidence ... adduced from memoirs, letters, or state papers".
Contemporary historians have also disputed suggestions that Napoleon, on the rampage in Europe, had seen strategic value in Australia and could have taken the colonies from Britain.
In 1803 a squadron under the command of Rear-Admiral Charles-Alexandre Linos had been chased off by Commodore Nathaniel Dance, a daring Royal Navy officer who disguised a fleet of East India merchantmen as warships off Malaya.
In 1810 Napoleon reportedly ordered a new naval incursion into the Indian Ocean with one of its targets Port Jackson, "where considerable resources will be found", but by then France had no chance against the Royal Navy and the expedition was cancelled.