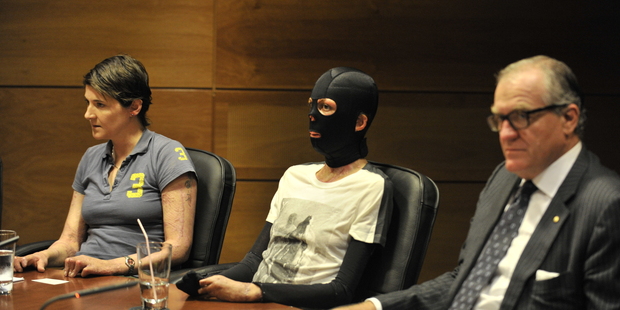 Her face hidden behind a black mask, a former model has spoken of the horrific burns she suffered in a bushfire while running a marathon.
Turia Pitt, 24, told a parliamentary inquiry that event organisers had given little warning of the risk of being engulfed in an Outback blaze.
Yet only a few miles into the race a wildfire trapped her in a rocky gorge, leaving her with "nowhere to go".
"It just got hotter and hotter and hotter and I couldn't stand it any more so I jumped up and tried to run and that's when I got burned," she said.
Miss Pitt suffered 64 per cent burns and was taken to a specialist unit in Sydney where she had skin grafts on her back, legs and face.
Another victim, Kate Sanderson, told the parliamentary inquiry in Perth there was a severe shortage of staff on the 97km course in Kimberley, Western Australia.
"You put your trust in the organisers. We just assume that everything's taken care of," she said.
The 36-year-old said she screamed when the fire hit her body and it felt like an eternity before help came.
"I stood there in shock - I didn't even look. I just knew I had been badly burned."
She revealed she has extensive scarring to her body, half her left foot had to be amputated and a large part of both ear lobes are missing.
Half of her right index finger is missing and her other fingers are scarred and disfigured.
Miss Pitt, a part-time model and 2007 contestant in Miss Earth Australia, told the inquiry that there had been a brief mention of bushfires at a pre-race meeting but the focus was on other risks such as dehydration, snakes and even crocodiles.
"They told us to avoid the fires if there were fires, but it was more of a passing comment," Miss Pitt told the inquiry.
She said she had "earned a pretty good living" at mining giant Rio Tinto in Kununurra before the fire but now cannot work and relies on handouts. Her partner has stopped work to care for her.
Miss Pitt said at first she had no interest in competing in the event - her first ultra-marathon - because she thought the £1000 entrance fee was ridiculous.
However, she was later convinced to register.
Another victim, Michael Hull, said the flames caught him and three other runners by surprise.
"It was just horrendously hot. We tried to run away from the blaze but we became trapped by the wall of flame," he said.
"We had a quick choice of being a human fireball and burning and that was the end, or what we did, instantaneously, is just stop and run back through the wall of flame.
"We knew the flame, while it was high, we knew on the other side of it there was nothing left to burn."
Mr Hull, who suffered 20 per cent burns, also claimed there was a lack of stewards.
Miss Pitt's lawyer, Greg Walsh, said that she and three other runners might take civil action against Racing the Planet, the Hong Kong-based organisers of September's event.
He claimed stewards at the second checkpoint failed to warn runners despite knowing the fire was approaching.
The inquiry members will present their report to Parliament in June.
- Daily Mail