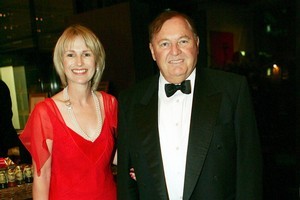 In a "loving" suicide note, the wife of former tycoon Alan Bond apologised to her family for the stress and pain her battle with mental illness had caused them.
Before her tragic death two days ago, Diana Bliss had been treated in hospital for anxiety and depression, and had undergone electric shock treatment last year, her younger brother Peter Bliss told The Australian.
Ms Bliss, described by her brother as "one of the most loving and caring women we all knew", was found dead in the pool of her $4m Perth home on Sunday.
The former flight attendant turned theatre producer had tried to take her life twice before, and had left notes similar to the one found by her family this week.
Mr Bliss said the note was loving and apologetic.
"I haven't seen it personally, but I know she said how wonderful Al was and what a beautiful, unbelievable husband he had been to her."
Mr Bond and Ms Bliss married in 1995 after he and his first wife, Eileen Hughes, divorced after 37 years of marriage.
If you are feeling depressed or contemplating suicide, call the depression helpline on 0800 111 757.
For more information on depression and ways to cope visit depression.org.nz.
- AAP