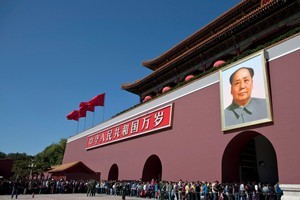 Chinese authorities have confirmed a man set himself on fire in Tiananmen Square last month.
The act of self-immolation occurred close to the square's portrait of Chairman Mao, reported the BBC.
The 42-year-old man, named only as Wang from Huanggang city in Hubei province, set himself on fire following a legal dispute. After receiving hospital treatment he has now recovered from his injuries.
Beijing police said it took only 10 seconds to put out the fire, however, a British tourist who witnessed the incident said although the man's clothes went out quite quickly, he himself was still on fire.
"They did the fire extinguisher, and his clothes went out quite quickly, but he himself was still alight. He then dropped face down on the floor, and the policeman was still using the fire extinguisher," Pamela Brown told the BBC.
She said many of those in the busy and heavily-policed square did nothing.
The incident, which is believed to be the first act of self-immolation in the square for more than a decade, has not been reported in the Chinese media.
- HERALD ONLINE