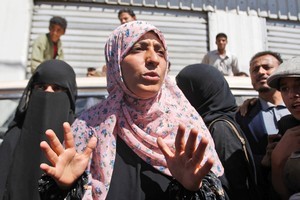 Hundreds of Yemeni women burned their veils yesterday in a gesture of defiance against the regime's brutal suppression of a popular uprising heading into its 10th month.
The women, among the most conservatively dressed in the Arab world, hurled their black, full-body garments into a pile in the capital, Sana'a, doused them with oil and set them ablaze, crying: "Who protects Yemen women from the crimes of thugs?"
It was a highly symbolic act that reflected the fury of many Yemenis at President Ali Abdullah Saleh's harsh handling of anti-regime protests that have escalated from peaceful street demonstrations calling for reform into bloody clashes for dominance between rival elites and the Government.
The women, who have played a leading role in Yemen's uprising, were making a traditional call on tribesmen to protect them from government forces, who have acted ruthlessly to put down the protests.
As they protested, a ceasefire with renegade forces and tribesmen loosely aligned with the opposition appeared to be unravelling just hours after it was announced by the Government.
Twenty people, including tribesmen and soldiers, were reported killed in fighting in the capital.
Many fear Yemen, home to an al-Qaeda franchise, is on the brink of civil war and economic collapse.
The fighting has intensified since Saleh returned last month from Saudi Arabia, where he was recuperating after a failed attempt on his life.
Amid continuing international pressure for his resignation, Saleh, who has ruled Yemen for 33 years, said yesterday that he would sign a US and Gulf-backed power transfer deal giving him immunity from prosecution.
But opposition figures remain sceptical as the President has agreed to trans
- INDEPENDENT