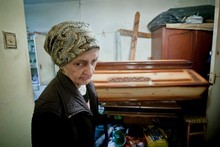 Times are so hard in Romania that people joke they cannot afford to die. Yet in the mountains of Transylvania, carpenters are churning out cut-price coffins to beat the rising costs of death.
Ilie Troanca says he's beating the recession blues with bargain coffins that sell for around €100 ($167) in Transylvania, home of the Dracula legend.
He has already attracted plenty of attention far beyond the Transylvanian city of Sibiu, 300km northwest of Bucharest.
"I saw there was an opportunity and that we had unused space," said Troanca, director of the Sibiu state timber and forest industry, which oversees 180,000ha of oak, beech and pine forests. The no-frills coffins sell for 350 to 450 lei ($136 to $750) plus 24 per cent sales tax.
Coffins are big business in Romania, a country of 22 million, which has an ageing population but where hardly anyone is cremated. In addition to buying a plot, families often have to bribe graveyard caretakers to secure a decent burial site.
- AP