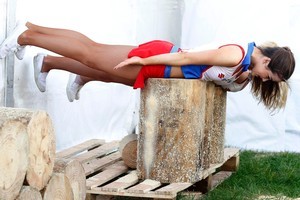 Planking may soon be illegal in the Phillipines.
A Quezon City representative Winston Castelo has filed a bill called the "Anti-Planking Act of 2011'', arguing the popular practice is dangerous.
Castelo proposed the act after a nationwide transport strike over high oil prices, which involved a small group of people planking at a busy roundabout in Manila, stopping traffic.
Castelo said that "unbelieving bus drivers and law enforcement authorities might just ram through these warm and living bodies rolled out on highways''.
Local police supported the bill, saying they would break up any future planking sessions and detain those involved, but most Filipinos weren't impressed.
"Planking is an expression,'' said Ian Velasco on Twitter. "Ergo, it's our constitutional right to plank.'
- HERALD ONLINE