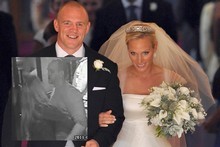 As questions continue about English rugby captain Mike Tindall's behaviour during a night out in Queenstown, world media are weighing in.
Tindall, who married the Queen's granddaughter Zara Phillips seven weeks ago, was seen flirting with a mystery blonde at a Queenstown bar. CCTV footage was leaked on YouTube today showing the incident.
"The question is whether this is a fitting way for England players to behave," writes Alex Spink of the Daily Mirror in a piece entitled "Are England on holiday - or trying to win the World Cup?"
"What matters at World Cups is winning. If England continue to do so, all will be quickly forgotten."
"All anyone wanted to ask about was what a player who didn't even make the reserves bench has been up to off the field," noted Associated Press writer Stuart Condie.
Writing in The Independent, James Lawton says that if a more famous player was involved the scandal might be even bigger.
"Imagine, instead, the concentrated national outrage which might have ensued if Wayne Rooney or John Terry or Rio Ferdinand had been similarly compromised after a performance generally agreed to be one of the most underwhelming in the infant tournament which every four years seeks to identify the best team in the world."
Some writers are seeing a scandal that could travel all the way to Buckingham Palace.
"The royal family will no doubt be thrust into damage control," writes Australia's Herald Sun's Jamie Pandaram.
According to Alison Bishoff of the Daily Mail, the Palace was playing down the incident.
"He is just a rugby player, and this is what rugby players do," Bishoff quotes a source as saying.
Still, England's manager Martin Johnson wasn't having much of it when he talked to reporters today.
"It was guys out having a few drinks, as other teams have done in the same town during the World Cup.
"There is no difference - it is just the way it has been reported: 'rugby player drinks beer, shocker.'"
By Nik Dirga