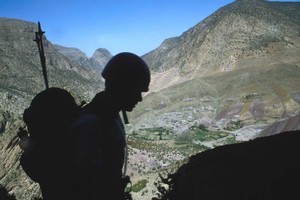 A Russian soldier who says he escaped after spending the past 11 years as a slave in the North Caucasus could face charges of desertion from the Russian Army in a case that has shocked the country.
Alexei Popov turned up at his mother's home late last month after a 20-day journey from Dagestan, the restless republic in the south of Russia, where he says he was kept captive and forced to work at a brick factory after being kidnapped in 2000.
Popov told Russian papers that, less than a year into his national service, officers took him to do construction work at a dacha where he was offered a drink after work. The next thing he remembers is waking up with a headache in a truck transporting labourers to the factory in Kaspiisk, a city on the Caspian Sea, 24 hours' drive away.
At the final destination, all of them were told to get out with the words, "You are nobody here and nobody will look for you", Popov said.
The workers were woken at 5am and forced to work till 10pm every day.
"We woke up and went to bed hungry. Cigarettes saved us," he said. "We were given three packs of Prima cigarettes a week and we killed the hunger with them. Now I can't smoke and my stomach is barely alive."
When he turned up on his mother's doorstep, she didn't recognise him. "She looked at me for five minutes and did not understand who I was. My younger brother recognised me by my eyes. When I left he was 7 or 8 years old," Popov told a news conference in Saratov.
Instead of receiving medical and psychological help, he now faces criminal charges for desertion and the prospect that he may have to finish his army service. He was released from prison into the care of the army only after the Russian press wrote about his story.
There have been several cases in which soldiers or civilians have been kept in forced labour conditions.
"In our country it is normal. It shouldn't be but it happens all the time," said Dmitry Yefimovich, from the Committee of Soldiers' Mothers of Russia. "We've become used to it. The Government doesn't care if they disappear or don't disappear."
- Independent