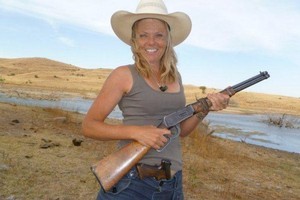 Liz Hardwick-Smith was loving her new life in Mexico - learning to surf, speak Spanish and practise yoga.
The 42-year-old Aucklander had packed in her job as a website designer to go travelling after the end of a long-term relationship in March.
But just three months into her trip of a lifetime, Hardwick-Smith was killed in a truck crash.
The former Air New Zealand contractor died instantly after she was thrown from a vehicle that went out of control on a narrow, unsealed road in the state of Chihuahua and drove 15m into a steep gully.
The crash killed five others, including a 37-year-old United States national and a 15-year-old boy. A 10-year-old and an 18-month-old survived.
Hardwick-Smith's travel blog was called Eat, Surf, Love, a tongue-in-cheek homage to the book Eat, Pray, Love.
Turned into a movie starring Julia Roberts, the book is about a woman who goes travelling to "find herself" after a painful divorce.
Hardwick-Smith's blog documented her trip of a lifetime, including a stay at a Texan ranch with a cowboy, Rusty.
"I'm playing at being a cowboy housewife in the desert in West Texas. Rusty is a genuine, old-fashioned Real Man. Next trick, to leave while the going is still good, ideally with both hearts still intact. Wish me luck on that," she wrote.
At the start of her trip, she wrote: "I feel at home here and I loved the routine of surfing, yoga, fish tacos, siesta, blogging in the hammock."
Her sister Susan wrote an emotional letter to friends about going to see her body in Creel, Mexico.
She said: "I spent some time with her and I was able to hold her hand and touch her beautiful face. She was peaceful. Her damaged body was just an old chrysalis that the butterfly had emerged from days before," she said.
She recovered Liz's belongings including her computer and notes from her last day.
Susan said she was uncertain of the circumstances of the crash. "The vehicle may have been a van or an open bed truck we are not sure, but it was caught halfway down on a tree and most of the passengers were thrown out and down to the valley below," she said.
Her sister Margaret said Liz was "brave, beautiful, strong, clever, funny, accomplished".
"My girls are heartbroken, she was an awesome auntie. Life was just so much more fun with her around," she said.
Liz's friends gathered to remember their "beautiful" friend in Auckland this week.
Jo Hogan said Liz had been her best friend for 30 years.
"She was the most intelligent person I ever knew. She was just a gorgeous human being. She was just 42. It's too young. I thought we would get old together."
Liz's parents Madri and Taranatha, four sisters and her many friends will celebrate her life at a memorial service next Sunday.