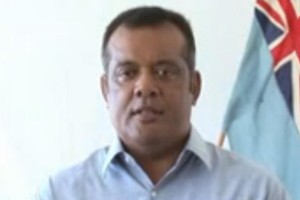 Former Royal Fiji Military Force (RFMF) chief of staff Lieutenant Colonel Ratu Tevita Uluilakeba Mara has been declared a fugitive under the Extradition Act by interim Fiji Prime Minister Commodore Voreqe Bainimarama after he was spirited out of Fiji by the Tongan navy.
The FijiLive website reported that at a press conference late yesterday, Cdre Bainimarama confirmed an illegal extraction of Lt Col Mara, who faces sedition charges, by the Royal Tongan Navy Patrol Boat Savea took place one nautical mile northwest of Cape Washington in Kadavu earlier this week.
TV One reported Lt Col Mara, who has strong Tongan connections, was now under the kingdom's protection.
"When I was rescued by the Tongan navy, I asked to be brought to Nukualofa, where with the sure protection of King George's government I shall be able to tell the truth without fear of retribution about the tragic oppression that stifles my beloved land," Lt Col Mara said.
Colonel Mara is the youngest son of the late Ratu Sir Kamisese Mara, Fiji's founding Prime Minister and former President, and brother-in-law of the current President Brigadier-General Ratu Epeli Nailatikau. Along with Pita Driti, a high ranking commander, Lt Col Mara was charged a week ago with mutiny and accused of trying to overthrow the Bainimarama regime.
Cdre Bainimarama told FijiLive that preliminary investigations nullified claims of a search and rescue mission off Southern Ono-i-Lau, however Fiji could confirm that the illegal extraction of Lt Col Mara took place.
"I intend to communicate with the Tongan Prime Minister within the next 24 hours about these breaches," he said.
He said Lt Col Mara failed to surrender his passport after his appearance in court on May 4, and did not report to police on Friday as ordered by the court thus breaching his bail conditions.
"His fleeing Fiji now makes him a fugitive under the Extraction Act. The DPP (Director of Public Prosecution) will present various documentation to the courts tomorrow morning to commence extradition of this fugitive," Cdre Bainimarama said.
Police had started investigations to find out who facilitated the fleeing of an accused person and conspired to breach Fiji's sovereignty.
"This is unfortunate and shows a fundamental disloyalty to Fiji, Fijian laws and the Fijian people," Cdre Bainimarama said.
Malakai Kolomatangi, a research fellow and lecturer at the University of Canterbury, told TV One the move was quite surprising given the fact there would be diplomatic and military ramifications.
"I think this needs to be settled and resolved quickly. We are perhaps looking at two major powers in terms of influence in the Pacific, going head-to-head," Dr Kolomatangi said.
The diplomatic situation between Tonga and Fiji has recently been tense, with both laying claim to the Minerva Reef which lies between the two countries.
- NZPA