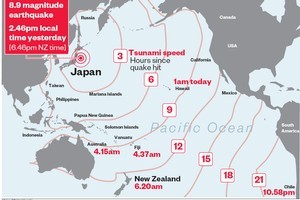 LATEST: Most reports, from over 50 countries on the Pacific Rim, say that the tsunami caused by the 8.9 magnitude Japan earthquake has only led to minimal waves. The largest surges were reported in Hawaii, but the coastlines of Australia, the Phillipines, New Zealand and the US west coast have barely seen ripples.
HAWAII
Water rushed up on roadways and into hotel lobbies on the Big Island and low-lying areas in Maui were flooded as 2-metre waves crashed ashore.
The tsunami warning was downgraded to an advisory in Hawaii, and Gov. Neil Abercrombie said the islands were "fortunate almost beyond words."
"All of us had that feeling that Hawaii was just the most blessed place on the face of the Earth today," he said.
Honolulu International Airport remained open but seven or eight jets bound for Hawaii turned around, including some originating from Japan, the state Department of Transportation said. All harbours were closed and vessels were ordered to leave the harbour.
About 70 per cent of Hawaii's 1.4 million population resides in Honolulu, and as many as 100,000 tourists are in the city on any given day.
A small 4.5-magnitude earthquake struck the Big Island just before 5am EST but there were no reports of damages and the quake likely wasn't related to the much larger one in Japan, the USGS said.
No damage was reported to US Navy ships in Hawaii.
NORTH AMERICA
The tsunami has swept at least five people watching the waves in California out to sea. It's also ripped docks out of harbours, spreading the destruction of a devastating Japanese earthquake to the shores of the United States.
Four people were rescued from the water in Oregon, but one man who was taking photos in Northern California is still missing. Coast Guard helicopters searched for him near the mouth of the Klamath River in Del Norte County, California, after his two friends made it back to shore.
Four people were swept off a beach north of Brookings, Oregon. Two got out of the water on their own and the others were rescued by law enforcement and fire officials.
A man was found dead aboard a commercial vessel in Brookings, but sheriff's officials said it appeared to be from natural causes.
The large waves shook loose boats in that weren't moved in time and tore apart wooden docks in at least two California harbours.
"This is just devastating. I never thought I'd see this again," said Ted Scott, a retired mill worker who lived in Crescent City when a 1964 tsunami killed 17 people on the West Coast, including 11 in his town. "I watched the docks bust apart. It buckled like a cracker."
The waves didn't make it over a 6-metre break wall protecting the rest of the city, and no serious injuries or home damage was immediately reported.
Scientists warned that the first tsunami waves are not always the strongest, and officials said people in Hawaii and along the West Coast should remain vigilant. Still,
Damage estimates in Crescent city were in the millions, and more boats and docks were hit in Santa Cruz on California's central coast. Surges are expected throughout the afternoon.
The warnings issued by the tsunami centre covered an area stretching the entire western coast of the United States and Canada from the Mexican border to Chignik Bay in Alaska.
In the Canadian pacific coast province of British Columbia, authorities evacuated marinas, beaches and other areas.
Officials in two coastal Washington counties used an automated phone alert system, phoning residents on the coast and in low-lying areas and asking them to move to higher ground.
"We certainly don't want to cry wolf," said Sheriff Scott Johnson of Washington's Pacific County. "We just have to hope we're doing the right thing based on our information. We don't want to be wrong and have people hurt or killed.
In Oregon, at least one hotel was evacuated in the northern part of the state. Restaurants, gift shops and other beachfront business stayed shuttered, and schools up and down the coast were closed.
Albert Wood of Seaside, Oregon, said he and his wife decided to leave their home late Thursday night after watching news about the Japan quake. They stood with dozens of other people on a hilly area overlooking the tourist town to wait out the waves.
Surfers in California who raced to the beach to catch the waves were undeterred by the surges.
"The tides are right, the swell is good, the weather is good, the tsunami is there. We're going out," said William Hill, an off-duty California trooper.
NORTH PACIFIC ISLANDS
Many islands in the Pacific evacuated, but officials later told residents to go home because the waves weren't as bad as expected.
In Guam, the waves broke two US Navy submarines from their moorings, but tug boats corralled the subs and brought them back to their pier.
SOUTH PACIFIC ISLANDS
Police in Tonga say water surged into a number of houses in the low-lying Ha'apai islands this morning but did not cause any injuries or significant damage.
Radio Tonga says thousands of people in the capital, Nuku'alofa, sought refuge at the king's residence on higher ground, though no significant wave activity was reported in the town.
Tidal surges up to 66 centimetres high were reported in Samoa.
On Chile's Easter Island, about 3,500km west of Santiago, authorities evacuated 1,500 residents - about a third of the population - to the island's airport, a safe 45 metres above sea level.
The first tsunami-generated wave was expected to reach the island a little before 6pm local time.
The famous Easter Island statues - the stunning head sculptures carved from volcanic rock by the islanders' Rapa Nui ancestors - could be hit, former governor Sergio Rapu said in a telephone interview from the island.
France has lifted a tsunami alert for some of its South Pacific islands after Japan's huge earthquake, but is still ordering many residents to stay ashore.
French Polynesia's high commission said in a statement that waves prompted by the quake's impact were "moderate" in most areas, although a road was submerged in Papenoo - a popular surfing shore on the north coast of Tahiti - and waves were higher than usual in the area.
The authorities warned that a tsunami can cause damage hours after the passage of the first wave, and said "all marine activities remain forbidden until new orders, in all archipelagoes of French Polynesia."
The statement warned residents to stay away from the shore.
CENTRAL AND SOUTH AMERICA
Coastal officials from Mexico to Chile were hauling boats from the sea, closing ports and schools and preparing to evacuate thousands of people ahead of the tsunami's expected arrival at 5pm EST.
By Friday evening, Chile ordered all mainland coastal areas subject to flooding evacuated.
Chile also alerted its citizens to prepare for possible evacuation to higher ground on the Robinson Crusoe islands, closer to the mainland.
President Sebastian Pinera called on Chileans to remain calm and attend school and work normally despite Friday's alert, and assured Chileans the government is now prepared.
"We now have a much better system," Pinera said during a visit to the emergency system's headquarters. "A year ago I was here and I saw what all Chileans saw, a real chaos. There was no information, no coordination, and that led to us losing many lives."
Just over a year ago, Chile was slammed by a tsunami in the early morning darkness. The tsunami on Feb 27, 2010 devastated coastal communities after an 8.8 earthquake just off the central coast.
Mexico closed the major Pacific cargo port of Manzanillo and several cargo ships and a cruise ship decided to wait out a possible tsunami at sea rather than risk possible damage in a harbour.
The Mexican navy said it had detected offshore swells of more than 2 feet (70 cm) related to the tsunami.
Colombia's government put 16 low-lying towns and cities on alert for a possible evacuation.
Colombia's biggest coastal city is the port of Buenaventura, with 400,000 inhabitants.
In Peru, the Ministry of Education closed schools for thousands of children living near the sea. Authorities also temporarily closed beaches popular with tourists including Lima's Costa Verde, ordering seaside businesses shuttered. Dozens evacuated their homes in flood-prone areas of Callao the port adjacent Lima.
Fifty-five percent of Peru's 28 million people live along the coast.
All of Peru's ports were shut until "maritime reports indicate normality along Peru's coast," port authority director Frank Boyle said.
The strongest action came from Ecuadorean President Rafael Correa, who declared a state of emergency and ordered people on the Galapagos Islands and the coast of the mainland to seek higher ground. He ordered schools closed and said the military would guard property.
Ecuador temporarily suspended oil exports and halted operations at its La Libertad refinery near the ocean, though its main refinery continued to function.
NEW ZEALAND
Waves hitting New Zealand from the Japanese quake-generated tsunami have increased in height to about 40cm this morning, Civil Defence says.
The first wave arrivals were measured by coastal gauges. At Raoul Island in the Kermadecs, about 1100km northeast of New Zealand, the first arrival was recorded at 6.35am and at North Cape at 7.10am.
The initial waves were about 15cm high and increased from about 8.30am to 30-40cm.
"It is important to note that higher wave amplitudes are expected to follow in the next few hours based on modelling," Civil Defence said, following Japan's deadly 8.9-magnitude quake yesterday.
There was a marine and minor land threat only for parts of the upper North Island coasts, according to the New Zealand Tsunami Expert Panel.
In Auckland, motorway signs urged residents to stay away from the city's beaches, and an ocean-swimmers' group cancelled their meet for today.
- AGENCIES, NZHERALD STAFF