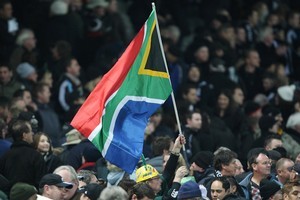 Perceptions are all in modern day life.
The nation steeped in history, a glorious tradition behind it, is seen inevitably as First World. The likes of France, Japan, Britain, Spain and the United States fit as comfortably into this image as a velvet glove on a lady's hand.
Then there are the countries called, a touch disparagingly, Second World nations. These would be the developing nations like China, India, Brazil and South Africa. Countries inhabiting the Third World would include the likes of Bolivia, Bangladesh and Vietnam.
But how accurate are these so-called perceptions? Do they bear much relationship to the present world and its many variations and changes?
For example, if you have the considerable misfortune to arrive at an airport such as London Heathrow, you would be more than justified in believing you had just landed in a Third World country. Even at the new, hugely expensive Terminal 5, you can be stuffed on to a bus upon disembarkation from the plane, rather like commuters on the Tokyo underground system, and then hang on amid the swaying, twisting, stopping and starting.
Is this really First World travel in a First World nation?
Huge numbers of bags never arrive; some are lost forever. And at the other Heathrow terminals, there is an unmistakable sense of dirt and chaos. Compare that to landing at either of the two major South African ports of entry; Johannesburg and Cape Town. Thanks to last year's soccer World Cup, you find yourself amid an elegance, comfort and space that has nothing to do with the so-called Second World.
The current economies of certain countries are another element in this debate. China's anticipated 10 per cent growth rate doesn't sound very Second World to me, even allowing for the number of people it must feed.
Conversely, if ever a nation seemed to qualify for Second World status it is Ireland, given the €85 billion ($160 billion) it has had to borrow from the European Community to prop up its disastrous debts and ruined banking system.
Then there is the UK, for sure a fully paid-up member of the cosy "First World" club. Upgrades to this esteemed, exclusive club are rare yet how does Britain retain its membership given the parlous state of its own finances? It currently has debts of £149 billion ($325.6 billion), and is engaged in a process of slashing its expensive public services and assaulting all of its middle England taxpayers in a desperate attempt to cut the deficit.
Britain and Ireland have paid the price for years when their banks acted like banana republic outfits. You could borrow 120 per cent of the cost of a home you wanted to purchase in the UK and in Ireland, it was even worse. Crazy sums were spent, vast amounts borrowed from banks by people who never had a hope of paying back such sums.
First World business practices? You must be joking.
But take a country like South Africa. While Britain and Ireland talk of their fears of a "double dip recession", South African Finance Minister Pravin Gordhan confidently set his country's GDP aspiration high for the coming year, in his recent Budget speech. The SA Government anticipates a growth rate of 3.4 per cent, very acceptable in these financially straitened times around the world. Germany was recently lauded for a 4 per cent GDP figure. Britain's is at about 0.5 per cent and going nowhere.
Gordhan made a hugely important statement, given the current world's economic mess. He said that South Africa was out of recession and would grow strongly now in the years ahead. No economic guru is saying anything like that about Britain or the United States.
One of the reasons for South Africa's healthy economic state of affairs is that personal borrowing levels were kept under control in the good times. Even though the world seemed to be booming, you still had to put down 25 or 30 per cent in cash if you wanted to borrow for a house. That might have seemed harsh at the time because it inevitably excluded a great many people.
But the wisdom of such a policy has since become blindingly apparent. South Africa is in nothing like the mess of so many other, so-called First World nations. Maybe it is time the rules of entry for that exclusive club were revised.