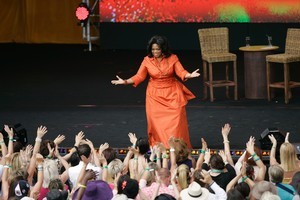 Brand Oprah gives Australia plenty of good publicity but tourists who don't share her philosophy might be put off.
I am one of the few people living in New Zealand who hasn't been there yet. I've always meant to do it. A bit like the basketball hoop I told my son I'd fix when he was 12. He's 19 this month.
Now, though, it will hardly be worth going to Australia. Not since Oprah opened her big (inspiring, kind and caring) mouth and told the whole world just what a great place it is.
Now the country is going to be overrun by people who follow the Oprah philosophy (live your best life). They will be trekking across the country, following in her footsteps, visiting the sites where she appeared to her followers.
For someone like me, who lives by a much simpler philosophy (it might be a good idea to get out of bed today), so much positive energy can be dangerous. I don't know if there's even a sunscreen with a SPF rating high enough to protect you from something like that.
Because Oprah didn't hold back in her endorsement of Australia. I watched her on the news taking the stage in front of the Sydney Opera House. She was wearing this big orange thing, the type of garment that inspires editors of women's magazines to write hurtful headlines like: Oprah joins Hare Krishna in latest battle with the bulge.
And with an enthusiasm which I am sure exceeded the decibel level agreed on during negotiations to film her show in Sydney, she bellowed: "I love Australia, I love Australia." So powerful was her voice it was easy to imagine koalas being shaken out of trees and kangaroos across the Outback raising their heads to see where that mysterious sound was coming from.
It was certainly heard around the world, thanks to the coverage her trip received.
Because Oprah's trip to Australia was big news. I can't say exactly why. As a subeditor it's safer for me not to know these things. But by the middle of the week it was a major event, even bigger than WikiLeaks and Shane Warne kissing Liz Hurley.
The turning point was when a giant O appeared on the Sydney Harbour Bridge. People around the world were no doubt drawn to televisions screens the way they are in movies when spaceships hover over big cities moments before an alien invasion.
Hollywood has given us an insight into the way people react in these situations. "Who do you think placed it there? Do you think they are trying to communicate with us? Do you think they come in peace?"
I actually thought Sydney was using the bridge as a giant scoreboard for the Ashes series and that a big "Australia" would appear in lights before the O.
Then Oprah started appearing everywhere around the city. Oprah with Russell Crowe, Oprah walking on the Sydney Harbour Bridge, Oprah patting a koala. The mystery of the O was solved. It was just Sydney's way of saying: "Oprah, there is nothing we wouldn't do to try to attract more of your fans to Australia."
And Oprah, the great ambassador of goodwill she is, was ready to do her part. Tourism Australia had to pay her a few million to stage special episodes of the Oprah Winfrey Show in the city, pocket money to a woman with an estimated personal fortune of US$2.7 billion ($3.65 billion).
It seems by the end of her stay, Australians had also fallen in love with her. They'd even seemed to have forgotten being described on her show in the leadup to her visit as a nation that liked nothing more than hanging out at McDonald's.
The lengthy plug for McDonald's came in what was described as a "crash course on Australian lingo and culture" on the show's Aussie Countdown Special.
According to newspaper the Australian, McDonald's was a sponsor of Oprah's Down Under Roadshow.
But then, I suppose Oprah's visit was really about mutual endorsement rather than mutual love.
Because Oprah is more than just a talk show host. She is a brand. While her show is set to end in September next year after 25 years, on January 1 next year she is starting up her own cable television channel, the Oprah Winfrey Network, or OWN. And then there is her magazine, O, which always features her on the cover.
Ah, that's where I've seen that O before. It was the exact same one that sits next to her smiling space on every one of her magazine covers.
Wow, I wonder how much billboard space on the Sydney Harbour Bridge costs? Maybe now Oprah has left, Tourism Australia would agree to erect a huge NZ on the bridge in recognition of all the people from this country who have headed across the Tasman.
Or are New Zealanders not the type of people Australia hopes to attract?
* Duncan Gillies is the Herald's foreign subeditor