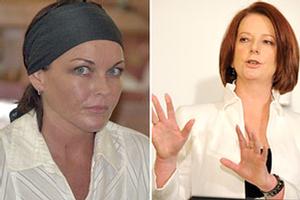 Australian Prime Minister Julia Gillard is today trying to convince Indonesian President Susilo Bambang Yudhoyono to grant clemency to convicted drug smuggler Schapelle Corby, according to a report.
The Herald Sun says Ms Gillard, who is visiting Jakarta, will make her appeal on humanitarian grounds as Corby, who has served five years of a 20-year sentence in Kerobokan prison, is suffering from severe depression.
The President has never granted clemency to a convicted drug criminal in his six years in power, said the paper, although Indonesia's Foreign Ministry has reportedly recommended Corby be considered for early release on a humanitarian ground.
Corby, 33, who was sentenced in 2005 for smuggling cannabis into Bali, has always maintained her innocence.
The Herald Sun reported that a spokeswoman for Ms Gillard confirmed the Prime Minister would discuss Corby.
"The Prime Minister intends to raise a range of issues with the President including ways to strengthen the bilateral relationship in areas such as trade, development and education and common challenges affecting the region," the Herald Sun quoted the spokeswoman as saying.
"In these conversations she will discuss the Government's ongoing support for clemency for Ms Corby on humanitarian grounds," she said.
Last month, the governor of Kerobokan prison reportedly suggested Corby was faking her illness in a report to his superiors.
- NZ Herald staff