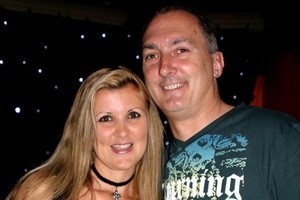 A British politician who campaigned with Prime Minister David Cameron during the last election cried after his wife was exposed as a £70-an-hour ($150-an-hour) prostitute, according to the Daily Mail newspaper.
Carla, the 39-year-old wife of Mike Weatherley, 53, was caught on camera performing a striptease and offering services to an undercover reporter.
Weatherley, who met his wife on a business trip to Rio de Janeiro 10 years ago, said he had no idea his Brazilian wife had been working in three massage parlours, under the names Bea, Adriana and Bianca, the newspaper said. The Mirror said it had been told by sources she was already selling herself for sex before they met.
When asked by the reporter if she minded selling her body, Carla replied: "I like it here, nice clients, nice people, nice place and good money."
Weatherley, a father of three, said he and Carla, his second wife, had been separated since February.
"I am still very shocked by the news and am trying to come to terms with it," said the MP for Hove in East Sussex. "I do have proof that we have been separated since February which I can show if needed."
The newspaper said he began sobbing as he added: "I will speak to Carla but today I just need to be with my family."
Weatherley had taken his wife to Conservative Party functions in the run-up to the election and just months ago took her to the Houses of Parliament in Westminster.
- AGENCIES