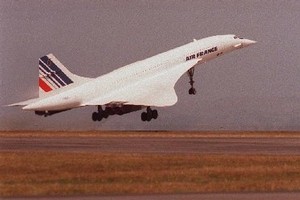 When, a decade ago this month, an Air France Concorde crashed on take-off, killing all 109 people on board, the dream of supersonic travel seemed to be over.
Hastening an idea that was already in the wind, three years later Concorde was mothballed, and with it the prospect of a commercial traveller zipping over the Atlantic faster than a speeding bullet.
But as the last Concorde flight touched down, a company in the British market town of Abingdon was already part way through designing a bigger, better alternative.
Reaction Engines may be a space plane developer, but it became it was part of a European Space Agency (ESA) and an EU-initiated project to see if its Skylon shuttle might have a more Earthbound spin-off.
It did: the A2 was a concept for a 300-seat aircraft, capable of non-stop flight to the other side of the planet at a cruising speed of Mach 5, or five times the speed of sound, around 5600km/h.
"The objective was to design an aircraft that could travel from Brussels to Sydney in just a few hours," says Reaction's technical director, Richard Varvill. "Our studies showed the A2 would do it in 4.7 hours."
The A2 is now in the second phase of an EU/ESA-backed study, due for completion in two years.
"The A2 shows that such an aircraft is technically feasible," says Varvill.
"We calculated that the ticket price would be about the same as today's typical business class flight, which is not too bad. But the question is how to make it commercially viable and to also make it environmentally acceptable. There are still doubts about whether an aircraft flying at such an altitude would damage the ozone layer."
To provide the range that would allow it to travel non-stop, such an aircraft would, he contends, need to be fuelled by liquid hydrogen too.
On the downside, this is expensive and would require a global supply structure. On the upside it is CO2 emissions-free and that structure might prove the launch pad for all aircraft to make the switch to liquid hydrogen.
"The bottom line is that a large, long-distance supersonic passenger jet is looking very promising in terms of technical feasibility," says Varvill. "And it's just not credible that we'll be stuck at Mach 0.9 from now on. Someone will up and do it."
That someone may be a rather rich individual. The A2 may not take to the skies before 2030, but it is possible that supersonic flight will be back on the agenda within five years.
At US$80 million ($110 million) a pop, Nevada-based research company Aerion Aviation's Supersonic Business Jet may not be cheap, even by private jet standards, but that hasn't stopped US$4 billion of advance orders being placed.
Then again, while much of the design is conventional, its proprietary "laminar-flow" technology means it could cross the Atlantic in just two hours.
The jet could also be scaled up to create a 50-seater version, half the passenger load of Concorde. The company is in discussions with manufacturers to build its design and hopes to have a deal signed by the end of next year.
"The changes in technology since Concorde are such that the economics of building and getting a meaningful return on supersonic aircraft is that much more feasible," says Aerion's CEO, Brian Barents.
"As an industry we already have larger and more comfortable jets but we're still providing aircraft that fly at the speed they did in the 1950s. Speed is the next frontier. And business jets are a stepping stone to the commercial jets that there is no question we'll see."
Varvill is sceptical about the contribution made by such business jets in shifting us towards genuine supersonic commercial passenger flight, arguing that the companies producing them cannot sell enough of their craft to pay for the advanced research needed to make it happen. But interest in that market is rising.
Gulfstream Aerospace, one of the world's biggest manufacturers of private jets, launched one stalled design project with the Sukhoi Design Bureau of Moscow and is now working on a new jet, and Nasa has established its Supersonics Project.
The return of the Mach may come more slowly than many hope for, however. The biggest obstacle to supersonic passenger flight is the sonic boom, the bang created by the movement of pressure waves around an aircraft as it passes through the sound barrier.
"There are negative perceptions of the sonic boom," says Robbie Cowart, director of Gulfstream's supersonic research programme. "There is the belief - and research suggests unfounded belief - that it harms animals and damages homes. People get very upset by it."
Yet for every person under a supersonic flight path who might object to the big bang, there are enthusiasts to whom it is music.
The Save Concorde Group has completed a 25,000-signature petition, rustled up celebrity support, and has just completed tests on the airworthiness of one of the mothballed aircraft engines, all with a view to getting at least one flying again, if only for ceremonial duties and, perhaps, in time for the London Olympics in 2012.
Why was Concorde canned in the first place? Not for its safety record. The French incident was its only crash, caused by debris on the runway.
Ben Lord, the group's vice-chairman, said: "Some say Concorde's too expensive to run but nobody involved will provide figures. Contrary to the public perception, it made money, around £500 million [$1 billion] net operating profit from BA's privatisation up until the aircraft's retirement. They couldn't sell tickets fast enough. The number of people who turned out to see its final landing shows how much it's loved. We went backwards the day Concorde was grounded: for the first time in the history of engineering there was nothing better to follow it."
BAN THE BOOM
Researchers are trying to muffle the noise made by supersonic aircraft cracking the sound barrier. Ideas include:
* The Quiet Spike: A retractable lance for the nose of an aircraft that swaps the single loud boom (actually two, at the nose and tail of the aircraft, but heard as one) for three much quieter ones.
* Channels through the aircraft to cut the drag which rises with speed and which contributes to the noise. One design involves a long, slender, drag-reducing fuselage creating a boom quieter than a fighter jet's.
- INDEPENDENT