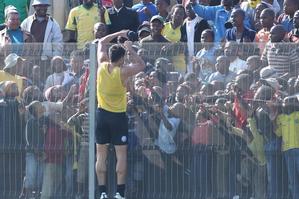 World Cup host South Africa may have a soaring crime rate, but the swiftness with which justice is administered looks to be keeping pace with the tide of offenders.
Three men accused of robbing two Portuguese and one Spanish journalist on Wednesday were arrested, tried and sentenced by Saturday.
Two were sent to jail for 15 years and the third for four years, after the trio relieved the correspondents of money, camera equipment, laptop computers and mobile phones in a town northwest of Johannesburg.
One of the journalists was held up at gunpoint.
Two Kiwi journalists have also fallen victim to thieves, losing more than $100,000 worth of equipment from their hotel.
TVNZ cameraman Tony George and One News reporter Donna-Marie Lever were dining at their Fifa-sanctioned hotel in Rustenburg, 170km northwest of Johannesburg, when the thieves struck.
They jemmied open the door and cleaned out George's room, taking television recording, editing and transmission equipment, a laptop, his clothes and passport.
One News editor Paul Patrick says the AP news agency in South Africa generously helped the pair out with broadcast equipment, transmission capability, transport and money until replacements could be organised.
Their hotel is near the venue of the All Whites' first World Cup game.
In a third incident, South African police say Uruguayan soccer officials have declined to pursue a theft case after allegations emerged that one of their own may have been responsible.
Police spokesman Leon Engelbrecht said officers received a report that about $12,000 was missing from two of the delegation's Cape Town hotel rooms several hours before Uruguay played France on Friday.
The authorities then reviewed hotel surveillance camera footage.
"There's a big possibility that a member of the Uruguayan delegation was involved," Mr Engelbrecht said yesterday, adding that when delegation members saw the footage, they decided not to lodge a formal complaint.
- NZPA and agencies