In the Year of the Tiger, 1500 of the big cats are slowly dying so they can be made into "tiger wine". Richard Jones writes.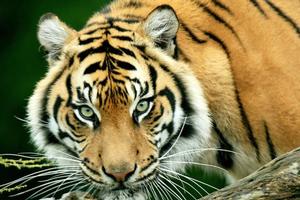 The emaciated and maltreated tigers of Xiongsen Wildlife Park are dying by the day.
Their keepers are indifferent to the suffering as, tragically, the endangered creatures are worth much more dead than they are alive, with their bones the key ingredient in traditional "tiger wine".
Behind rusted bars, a skeletal male tiger lies panting on the filthy concrete floor of his cage, covered in sores and untreated wounds. His once fearsome body is so emaciated it is little more than a pitiful pile of fur and bones.
Death is surely a matter of days away and can only come as a welcome release. It may now be the Year of the Tiger but wardens at the park in southwest China do not expect the suffering tiger to last long.
"What can we do?" a female park official asks a small huddle of visitors with a sigh and a casual shrug. "He's dying of course, but we have to keep feeding him until he does. It's against the law to kill tigers".
Instead, it seems, they die slowly of neglect. In row after row of foul, cramped cages more tigers lie alone, crippled and dying. One is hunched against the side of its cage with its neck grotesquely deformed. Another, blinded in one eye, lies motionless.
This shabby, rundown park in Guilin - one of China's main tourist cities - is home to the world's biggest single collection of tigers. Yet it is never included on foreigners' tour itineraries.
For here, 1500 captive tigers - which is around half as many as there are thought to be remaining in the wild - live miserable lives in squalid conditions.
Each tiger costs around $13 a day to feed and it is easy to see that the small clusters of visitors, each paying $16 for the privilege of wandering around the cages and watching bizarre animal shows, cannot possibly cover even the cost of food for the park.
The sad truth is that the tigers, which are mostly Siberian, are far more valuable dead than alive.
A 240kg pile of bones from a single tiger can be worth up to $490,000 and there is a hugely lucrative trade in the skeletons at the Guilin park.
Dead tigers are driven 320km from the park, officially ca=lled the Xiongshen Tiger and Bear Mountain Village, to a huge subterranean complex where their bones are collected to make "tiger wine", which sells for $400 a bottle.
So for the park, where the tigers are bred for their bones, every year is the Year of the Tiger, and conservationists fear that the trade could push some species of wild cat into extinction.
China has signed international wildlife treaties that ban all trade in tiger body parts and it claims to have outlawed the industry.
In reality, Xiongshen and other parks like it operate in a grey area of the law, using the bones of animals that have died naturally in captivity to produce "medicinal" wine, with the Government's blessing.
Tigers have been used in Chinese traditional medicine for centuries. Their eyeballs are used to treat epilepsy, their bile to stop convulsions, their whiskers to sooth toothache and their penises as a sexual tonic.
The most valuable parts, however, are the bones, which are used to make wine that is said to cure rheumatism and arthritis, and prolong life.
Despite its rapid modernisation, the use of traditional medicine in China has increased rather than declined because more people can afford exotic treatments.
Tiger-bone wine, made by steeping tiger bones in huge vats of 38 per cent-proof rice wine, has for more than 2000 years been one of the most expensive and sought-after Chinese traditional medicines, believed to bestow the tiger's power and strength upon the taker.
It is popular among wealthy middle-aged men, including, reportedly, some Communist Party senior officials, due to the superstitious belief that it counters the effects of ageing and boosts flagging sex drive.
Modern China's founder, Chairman Mao Tse-Tung, was also, allegedly, a regular drinker of tiger wine.
Because of the scarcity of tigers, a single bottle of tiger-bone wine from a rare vintage year can sell for $1300 or more.
As well as a supposed medical remedy it is a prestigious drink that is sometimes shared between men at high-level political or business meetings, or drunk at lavish parties.
The lucrative trade has accelerated the disappearance of all but a handful of China's remaining wild tigers as peasants turn poachers to track down the animals, knowing just one will make them more money than an average farmer can earn in a decade.
Millionaire Zhou Weisen, 47, who was born in the Year of the Tiger himself, realised at an early age he could make his fortune by keeping tigers in wretched captivity.
He opened the Guilin park with 60 tigers in 1993, breeding them intensively.
Only a few hundred of the park's animals are on view to visitors. The majority are hidden from sight in row after row of cages outside the public area of the park. Here, bored tigers crammed four or more to a cage pace restlessly back and forth.
Others are kept locked in small, concrete enclosures, spending their days in perpetual darkness. They occasionally jump up on their hind legs to peer through narrow, slit windows trying to get a rare glimpse of daylight.
After inspecting the park, welfare expert David Neale from charity Animals Asia said: "These animals are kept in appalling conditions and it is clear that many are suffering from malnutrition. And if what the public can see is so appalling, can you imagine what the conditions are like for the tigers hidden from view?"
At the end of their tour of the park, visitors are directed to a "science hall" where a complete tiger skeleton is displayed in a perspex case.
This building is decorated with pictures showing a cave lined with earthenware jars.
"Each jar contains 500kg of rice wine with a complete set of tiger bones," saleswoman Miss Li tells us with a practised patter.
"The wine is brewed in mountain caves a few hundred kilometres away where the water is ideal. Top [Communist Party] officials like to drink this wine. We serve it to them whenever they visit."
Li assures us that if we buy here our tiger wine comes with a cast-iron guarantee of quality.
"We have more than 1500 tigers," she says. "There is no lack of raw materials for us. There are a few hundred dead tigers lying in our freezers. I can promise you that we sell only authentic tiger products.
"You know, of course, that the tiger is a protected animal but the Government does allow us to trade tigers that have died naturally as a way of helping us financially."
Asked whether they all died natural deaths, she replied vaguely: "Many of them die from illness or in fights with other tigers."
Park owner Zhou is also the owner of the secretive, subterranean factory where the bones and tiger bodies are processed in vast cellars, which can store up to 8000 tonnes of tiger-bone wine. The factory sells around 200,000 bottles a year and keeps up to 600 tiger skeletons at a time in huge vats.
"Our peak time is just before the Chinese New Year," she said. "We have so many orders and we simply haven't got enough boxes to complete the packaging or workers to process the orders."
The factory's products are showcased in a sales office in the nearby town of Pingnan, where a variety of bottles of tiger-bone wine are on show for potential buyers. However, even here, deep in the Chinese countryside, the trade in tigers is a secret guarded with paranoid intensity.
As I took pictures of the outside of the sales office, I was approached by two security guards who insisted I deleted any pictures of the building.
They held me for 20 minutes before letting me go once they were satisfied my camera's memory was empty.
Hundreds of miles south in Shenzhen, on the border with Hong Kong, the city's licensed distributor - who gets his tiger-bone wine from the Guilin park - runs his business from the ground floor shop of a private apartment complex.
Lu Xi Ning has known Zhou Weisen of the Guilin tiger farm for more than 10 years. Visitors to his wine shop are allowed in by appointment only. "It's a sensitive business," he told me in a room containing bottles of tiger-bone wine of different vintages.
Praising its health benefits, Lu said: "I have been drinking it every day for the past three years."
He then added with a knowing wink: "It is particularly good for men."
Taking us to one side, he said quietly: "If you travel by plane you'd better take the wine out of the tiger bottle and put it into a red wine bottle or a Pepsi bottle, just to be on the safe side. Then it should be fine."
Jill Robinson, director of Animals Asia, had little doubt that the park had similar networks of sellers for other tiger parts, such as skins, teeth, eyeballs, whiskers and penises.
Robinson, who visited the park last year, described it as a thinly disguised tiger farm.
"They keep breeding and do not properly report births or deaths so they can use the bodies," she said.
It is a trade that Steve Broad, executive director of the international wildlife watchdog group Traffic, described as a disaster not only for China but the world's remaining wild tigers.
"We are not talking about a medicine trade but a trade where the tiger tonic is seen as a pick-me-up and the people who use it are doing it for bravado. The rarer the animal the better."
Another body fighting to halt the trade in tiger bones is the Environmental Investigation Agency (EIA).
Spokeswoman Debbie Banks said: "Tiger bone wine is not about tradition. It is about commerce. If China is truly committed, they will make a ban on all trade in tiger products happen. They need to stop farming and breeding tigers."
EIA appeals to the Chinese Government have so far fallen on deaf ears. "The State Forestry Administration said it would cost millions to phase out the farms," Banks said.
China's Government has stubbornly resisted attempts to stop the valuable but illicit trade in tiger parts.
Tigers, the Chinese Government argued at an international convention in 2007, should be treated like crocodiles and farmed for their bones and skin.
One week into the Year of the Tiger, its own tiger population is on the brink of extinction.