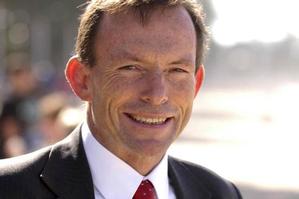 Last week Tony Abbott was almost wiped from Australian politics in the most permanent way possible when a semi-trailer narrowly missed hitting him during a roadside press conference on the notorious Princes Highway in Victoria.
Asked about the incident on the television comedy show Good News Week, Prime Minister Kevin Rudd quipped: "The police have interviewed me but it wasn't me (driving the truck)."
Truth be known, it is Rudd that is in danger of being run down by a juggernaut, politically speaking. Abbott, the man who grabbed the Liberal leadership by coup last December, has erupted as a very serious rival for a prime minister who had grown flabby around the edges from a two-year honeymoon with voters.
That is all gone now. The man with Dumbo ears and an unfortunate penchant for budgie smugglers has taken a moribund Opposition, given it a good shaking, and set it on to the Government with a fury.
Polling has shown that though Abbott still has a vast chasm to leap in comparative popularity with Rudd, it has begun to narrow. More, the comfortable lead Labor holds in the two-party vote that will decide the outcome of this year's election looks a lot less cosy when the same polls show the Coalition leading the primary vote, and problems in marginal seats.
The fight for these uncertain electorates is unsettling Labor. Quite apart from Abbott's growing threat from the right, Rudd faces erosion from the left as the Greens chip away at voters unhappy with the Government's performance on the environment.
And Australians may be even less decided on their vote than normal. Polling by the public relations firm EMC, quoted in the Australian Financial Review, found that up to 50 per cent of respondents could change their vote before the election.
This is the ground Abbott is cultivating. From an absolute certainty of defeat at the start of the year, there are the first stirrings of hope in the Opposition, despite the undoubted power of incumbency enjoyed by Labor and a history in which no Government has failed to win a second term for the past 60 years.
Abbott needs a uniform swing of just 2 per cent to win, prompting Rudd to warn his party: "If two or three people in 100 change their votes, then Mr Abbott is prime minister."
Unlikely as it is at this stage, Abbott has nonetheless belted the political pendulum his way to an extent that has stunned most observers.
Brash, bouncy, hard-right in many of his views, unpopular with women voters, uncompromising in his language, and with the legacy of his health and workplace relations portfolios under former liberal Prime Minister John Howard, Abbott has defied his detractors.
And for good reasons. He has been able to unite a previously splintered Opposition, paced out his own political battlefield and attacked with skill and fury. Taken by surprise, Rudd has reeled under an onslaught that has exposed both his political and personal shortcomings.
The almost Camelot quality of Rudd's early days has been crumbling as he vacillates on promises central to his election in 2007, and covers it with a barrage of syllables.
A joke doing the rounds illustrates the response in an increasingly cynical electorate: An old farmer tells his doctor that Rudd is a post-turtle.
Mystified, the doctor asks what the hell that is. The farmer replies: "When you're driving down a country road and you see a turtle balanced on a fence post, that's a post-turtle. You know he didn't get up there by himself, he doesn't belong up there, he doesn't know what to do while he's there, and you just wonder what dumb bugger put him there in the first place."
At first Rudd was a buoyant contrast to Howard, a fresh player with a fresh face and fresh approach to politics. After 11-and-a-half years of the nation's second-longest serving leader, he was as welcome as rain.
He promised Australia the world: new hospitals, better education, a vibrant future, social equity, an answer to climate change, and with the policies, working parties and timed commitments to bring them about. He finally said "Sorry" to Aborigines, and set about closing the gap in living standards between them and the rest of Australia.
Almost none of his core promises have come to pass. Rudd is ratcheting up the rhetoric again, but newspapers still appear with headlines like "Rudd overpromises, underdelivers".
He may have steered the nation through the global economic crisis, but as the rest of the country moves on Rudd can't let it go.
More, he is now having to defend himself against allegations of profligacy for the pump-priming that helped keep the economy afloat.
And if this sounds way too simplistic, then that is exactly Rudd's problem. He may have made substantial progress in difficult times, but he can't get it across simply and effectively to the people whose votes will determine his future.
He has lost the battle on climate change, and has had to shove his proposed greenhouse emissions trading scheme on the back-burner. His Environment Minister, Peter Garrett, needed to be saved by his personal intervention from the consequences of a bungled home insulation scheme that killed four installers and set fire to dozens of houses.
Increasingly, Rudd has emerged as a verbose technocrat who tries to reach the suburbs by sprinkling his appearances with phrases such as "fair shake of the sauce bottle", which has failed to impress many Australians.
His appearance on ABC television with an audience of 16- to 25-year-olds was an embarrassment. Nor has he been doing well on talkback radio, whose big-city hosts together have more than one million listeners a day.
Talkback kings surveyed by the Australian Financial Review this month were brutal in their assessments, saying their listeners saw him lacking a sense of humour, his personality as plastic and his language contrived.
Enter Abbott, the "Mad Monk" former boxer and trainee Catholic priest, one-time journalist, cyclist, surf lifesaver, volunteer firefighter and straight-talking son-of-a-gun. Voters may not always like what he has to say, but they will understand it and, with some frequency, be swayed by his blokey charm.
What Abbott has done is simple politics of the kind that would have won approval from Sir Robert Menzies, the Liberal titan who led Australia for a total of more than 18 years.
He has moved the Opposition away from the fudge of the centre, defined its ground on the right, and clearly marked the divide from Labor.
He has articulated climate, industrial, health and education policies simply and clearly, so even if people think they are rubbish they at least know what he is talking about. It has resonated with many, reflected in the polls.
He knows how to work the electorate, to put people at their ease.
He does well on television. Newspapers love him because he makes good copy, even if they don't like what he has to say. Who can forget the front-page pictures of him after he won the Liberal leadership, hairy-chested, lifesaver's beanie on his head and his loins clothed only in skimpy bathing togs?
Abbott is politically astute, sensing the ground shifting under Rudd on climate change and heading straight for it, daring to challenge Labor in one of its traditional strongholds.
As a student and close colleague of Howard, he also knows how to work the politics of fear. His most effective weapon against the Government's ETS was the mantra, "a great big new tax on everything".
Abbott speaks candidly, about his own life and beliefs as well as politics. He has taken flak for his conservative views on abortion, pre-marital sex and stem-cell research, but has balanced it with open, if tepid, acceptance of contraception, gay marriage and IVF for same-sex marriage.
For all this, the odds for this looming election are still heavily in Rudd's favour - but Abbott has put some real heat into the fight.