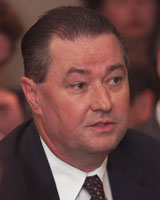 Former top TVNZ executive Shaun Brown's management style is being blamed for a top newsreader apparently walking out on the Sydney channel he now heads.
SBS TV newsreader Mary Kostakidis was said to have left the network after nearly 20 years of presenting its prime time evening news bulletin.
Kostakidis, 52, reportedly stormed out of the newsroom a week and a half ago and hasn't turned up for work since, the Sydney Morning Herald said.
She was said to be furious at changes to the news bulletin, which she believed undermined the standards of SBS, a channel she helped set up.
There has been speculation over the direction of SBS since Brown arrived there in 2003 and his subsequent promotion to head of television.
Kostakidis was personally offended by the "money-grubbing commercialisation of the show", a former colleague, who did not want to be named, told the newspaper.
"[She] feels management are abandoning the kind of principles with which SBS was set up, and she personally helped devise."
Brown left TVNZ in 2002 with an undisclosed sum of money, which employment experts tipped to be a few hundred thousand dollars, after being a leading hand in the John Hawkesby debacle.
He was head of television on an annual salary reported to be $340,000 for nine months before the position was eliminated by chief executive Ian Fraser.
Some senior staff viewed the decision to axe his position as retribution for his part in the Hawkesby affair, which cost TVNZ $6 million.
Hawkesby hit the headlines when he was hired from TV3 by TVNZ to read the news, replacing Richard Long, then sacked when ratings fell.
An arbitrator subsequently awarded him $6 million - the largest known payout in New Zealand history.
Former TVNZ colleague Paul Cutler - who worked with SBS news co-host Stan Grant at CNN - heads SBS news and current affairs.
Since late January this year, Kostakidis been co-hosting the show - extended from 30 minutes to one hour with new commercial breaks - with Grant.
Kostakidis, who joined SBS in 1980, declined to comment today from her Sydney home. It is understood she is only halfway through a three-year contract.
A spokeswoman for SBS said Kostakidis had not left the network.
"Mary is unwell and currently on leave," she said.
"She was ill last week, and SBS is not expecting her back this week. I'm not aware of the nature of the ailment."
- NZPA