Linda Herrick dents her budget on a cocktail in Venice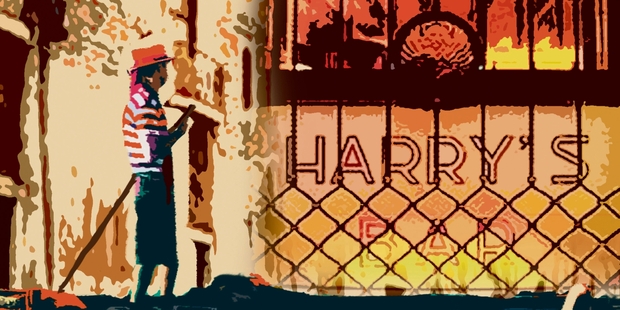 So much for being trained observers. The afternoon we visited Harry's Bar in Venice, it was a Saturday and abuzz with what you might call a non-celeb crowd of all ages, shapes and sizes, supplemented by an excitable mob jostling outside its modest entrance on Calle Vallaresso, near Piazzo San Marco.
Gosh, given the crush, Harry's must be good. We - both of us journalists - assumed that must be the normal state of affairs at one of the most famous, historic bars in the world. People were just so keen to get in...
Despite the crowd at the door, we didn't have to wait long. Every table in the dark downstairs room, the original bar, established 1931, was fully occupied, but after a few moments a smooth waiter ushered us up narrow stairs (he went up via the even narrower waiters' stairs so he appeared before us, like a conjuring act) into a dining room looking over the Canale di San Marco and the Grand Canal.
What a room! Generous big windows. Light yellow walls. Pale yellow linen tablecloths. Tables so cheek-by-jowl I kept elbowing a neighbouring diner.
Who cares? We were soaking up what the writer Jan Morris has called a very "striking and pungent" atmosphere, in the same room formerly haunted by glamorous regulars like Charlie Chaplin, Ernest Hemingway, Truman Capote, Aristotle Onassis, the Aga Khan. It was declared a national landmark by the Italian Ministry for Cultural Affairs in 2001. Imagine that happening to a bar here...
We'd popped into Harry's just for a Bellini. This is where the drink was born, created by owner Guiseppe Cipriani in the late 30s as a tribute to Renaissance Venetian artist Giovanni Bellini. It had to be a special shade of pink to match the light pink robes worn by the subjects in Bellini's paintings. According to the bar's website "everything (glasses, the Prosecco and white peach puree) should be as cold as possible. The general rule is to use one part puree to three parts Prosecco ... never use yellow peaches".
But it would have seemed mean, niggardly and touristy just to order a Bellini for 16.50 ($27.30) when the menu offered so much, for so much. This column is about bars but Harry's is as much about food. Prepare to lash out: the set menus range from 44-77; soups are 22-33; a burger is 33; salads and appetisers (including Harry's famous Cipriani carpaccio) 19-40; desserts 22-27. We gasped, then ordered two set menus. Mine was seafood bisque, sole meuniere, lemon meringue pie (77). Perfect, divine. What price memory? Well, 187, to be precise, but it's a meal I will never forget or regret.
As for the Bellinis, each ice-cold, of course - they were delicious, and just alcoholic enough to give a tingle without inducing an afternoon stupor which, I am told, Harry's dry martinis (10 parts gin to one part vermouth, no olive) can throw at you. We had no wine; just a humble bottle of acqua minerale (9).
Speaking of alcohol, that is at the very heart of Harry's history. Guiseppe Cipriani, who tended the bar at Hotel Europa in Venice in the late 20s, noticed that one of his most frequent clients, a rich young Bostonian called Harry Pickering, had stopped coming there to drink. When Cipriani asked him why, Pickering lamented that his family had found out about his boozing and cut him off (shades of The Talented Mr Ripley). Cipriani responded by lending the young man about $2500 (US$2000), a favour repaid 15 times over a couple of years later with the words: "Here's the money ... enough to open a bar. We will call it Harry's Bar." It opened on May 13, 1931.
Harry's Bar has been through tough times lately, with the Cipriani family losing control over the business late last year to a Luxembourg investment bank, which is cutting costs. Giuseppe's son, Arrigo, has been quoted as blaming Harry's woes partly on the decline of "quality tourism".
"We miss the Americans who were a guaranteed clientele for the whole year. That is not compensated by the new wave of rich Russians or Chinese."
He is right. Some parts of Venice are swamped by daytrippers who don't have the time (or the money) for a lovely long lunch. But it's certainly one of the most rewarding things I experienced during my stay.
And did I tell you who was at Harry's (downstairs) while we were having our lunch? Some actor called Leonard DiCaprio. His visit was papped in the papers the next day.