Ivan Sapich
Rugby player/coach, wine producer, racing identity
Died aged 74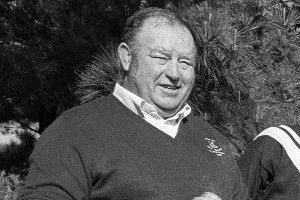 Someone of Dalmatian descent has a free pass to alter rugby, racing and beer to rugby, racing and wine.
Ivan Sapich did, right up until he died.
The West Auckland icon had been known for years as the gentle giant.
That's probably not a nickname that started back in the days when he was part of the forward pack in the Auckland rugby team when brute force was more prized than gentility.
Sapich believed in putting back much more than he took out, which is why, through his love of horse racing, he served two terms as president of the Avondale Jockey Club and was a committee member of the industry's ruling body, the then New Zealand Racing Conference.
After a decade in a rugby jersey, he took to coaching, preparing the Auckland under-18s between 1971 and 1980, the team losing just one game in those nine years. Grant Fox and John Hart emerged through those teams.
Sapich was a life member of Waitemata Rugby, the Auckland Rugby Union and the Avondale Jockey Club.
He became a delegate on the Auckland Union and sat on the appeals board.
His involvement in horse racing started when he and All Black Adrian Clarke bought and raced a horse named Wyoming. Later, Thames Valley rugby rep John Carter and he were involved in greyhounds, but it was as part-owner of fine mare Arlington Boulevard that Sapich and his wife, Pat, had their greatest thrill winning the NZ Bloodstock Thoroughbred Breeders Stakes (G1) at Te Aroha.
In the 1940s Ivan's father and uncles planted vines on 32ha of Henderson, which today is Sapich Wines, managed by sons Darren and Craig.
The family's humour shone through when one of the vineyard's products became famous and infamous at the same time.
To honour this, the family named the concoction "Purple Death". The vineyard's website describes Purple Death as: "An unusual 'Rough-as-Guts' aperitif that has the distinctive bouquet of horse-shit and old tram tickets. It is best drunk with teeth clenched to avoid foreign bodies.
"Connoisseurs often drink this strange brew in conjunction with other beverages which complement, or mask, the delicate flavour of Purple Death."
Not all the vineyard's products fall into the same vat - in 1995 its chardonnay won gold in the Air New Zealand Wine Awards.
The contents of Purple Death are a closely guarded secret - probably the only secret the open-hearted, open-minded Sapich left this world with.Mike Dillon