Prospectors are coming over the dunes with a glint in their eyes in search of the fabled ambergris. A rare yet valuable whale secretion, this 'floating gold', which occasionally washes up on NZ's coastline, stirs dreams of riches among thousands of seaside treasure hunters. Travelling in the Far North, the Herald on Sunday met some of the secretive speculators staking their claim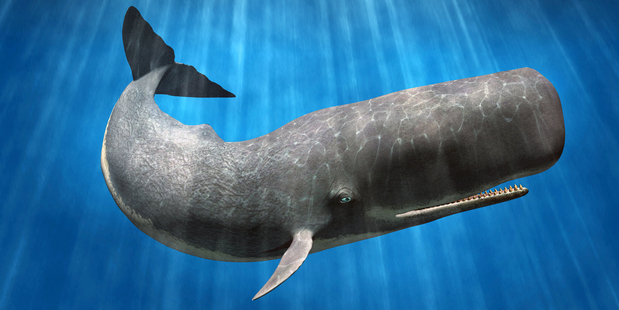 Rambling along the beach with relatives, Ray Wiblin was busy telling one of his favourite stories. His coastal stride along the Mangawhai coast had evoked memories of his finest hour: the day he found a tiny golf ball-sized piece ambergris.
As he finished recounting the tale, a relative spotted something washed up from the expanse of the Pacific Ocean. "I nearly died," says Wiblin. Like a lottery player watching their winning number appear on screen, Wiblin knew instantly he'd struck it big time.
The piece turned out to be a 12.5kg piece of ambergris, the stinky secretion of semi-digested squid from the stomach of a sperm whale.
Wiblin sold the piece he and his relative found for $125,000 and the pair split the proceeds. Now 69, the retired health inspector from Mangonui, Northland, has made about $100,000 over decades of beachcombing, everywhere from the Chatham Islands to Ninety Mile Beach.
He found a couple of small, golf ball-sized pieces of ambergris just the other week.
"It always brings a smile to your face," he says.
Wiblin's find was unusual because ambergris usually washes up on the West Coast, often after storms or when the ocean currents are just right. Even more strange was that Ray was prepared to discuss his big discovery, albeit more than a decade after the fact.
Big ambergris finds usually go unreported. The beneficiaries of this peculiar biological phenomenon prefer to keep their windfall secret, away from the prying eyes of greedy relatives and the taxman.
According to his history books, King Charles II added the "grey amber" to his eggs and Casanova had it mixed into his chocolate mousse.
Nearly 400 years ago, French doctors believed it cured rabies and today, the top French perfumiers use it in their scents. When so much of modern perfumery is synthesised, ambergris is a strange, repellent exception and it can sell from $10 to $20 a gram.
The journey from the sperm whale's intestines to the laboratories of Paris is an extraordinary one and is seldom told.
Former Waitakere mayor Sir Bob Harvey found a piece washed up on Karekare Beach, West Auckland, after a sperm whale stranding in 2003.
Writing in the Herald on Sunday in 2008, he said: "There it was, sitting on the sand shimmering, with a cloud of seagulls feasting on the long tentacles of sea barnacles attached to it. At first I thought it was just a piece of pumice hidden in the waves and, as I got closer, I saw it was the genuine article. My God, I sold it to a French perfume maker and paid for the bach."
Sir Bob wouldn't disclose the exact figure he sold it for, but it is understood to have been well over$ 100,000, and went a long way to paying for the "bach" that won HOME New Zealand magazine's Home of the Year in 2011.
"Legend has it, I sold it very successfully," he said coyly this week.
From the beaches of Stewart Island to Dargaville and Auckland's Waitemata Harbour, "floating gold" has been found right across New Zealand.
But not all that glitters is gold.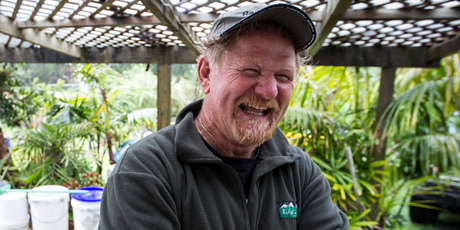 Northland marine expert Laurie Austin has had plenty of Jed Clampett-wannabes turn up at his door thinking they have "struck the motherlode".
"One guy came here, he must have had 40 or 50 kilos of these disgusting rotten sea sponges in the back of his vehicle. He was ecstatic, eh. He thought he had won the jackpot."
The high value and minute chances of making a discovery has led to turf wars and soured friendships as expectations of whale-sized windfalls fall short.
In 2004, a man was cleared of trying to ram his former ambergris hunting partner on Baylys Beach near Dargaville.
"It can get out of control but that's an extreme case, more to do with the personality of the person," Dargaville-based ambergris trader Adrienne Beusse says.
"There are a few people who are a bit more aggressive about it in their territorial ambitions. It stirs dreams of excitement and riches and everybody rushes off to the beach and picks up the first thing they find and then send us a photo of it. Your chances of hitting the right thing are next to nil."
Such discoveries can have a happy ending. In 2011, Beusse handled the sale of a 40kg piece that was retrieved from a whale carcass by Wairarapa iwi Ngati Hinewaka.
The $400,000 windfall was used to rebuild the marae and offer scholarships to young iwi members.
Author and molecular biologist Christopher Kemp says ambergris has inspired fascination for hundreds of years.
While living in New Zealand, he discovered there was no official history on the subject, so he wrote Floating Gold: A Natural (and Unnatural) History of Ambergris.
"Very early on, I realised anyone who knows about ambergris doesn't want to speak about ambergris," he said this week, speaking from his home in the United States.
The book named Stewart Island beaches as spots to find the lucrative excrement, which Kemp says elicited hate mail and threats of legal action from residents.
Kemp uncovered a wealth of material through secretive meetings with people in the industry and found ambergris appeared in the pages of history, from Shakespeare to the Aztec emperor Moctezuma.
He also went hunting for ambergris itself - but he never found any.
Don't give up your day job
A professional ambergris hunter has some advice for anyone looking to get into the business: "Don't give up your day job".
The Far North resident, who spoke on condition of anonymity, took up ambergris-hunting full time more than 10 years ago and made a reasonable living for a while.
He trained his dog to sniff out the pungent fishy smell and struck the jackpot when he found an 8kg piece on 90 Mile Beach, which he sold for $50,000.
"I just drove down the beach after some bad weather and there it was," he says.
He bought a new vehicle, went overseas and paid off some debt. But as more and more beachgoers became aware of its value, ambergris became harder to find.
"Once one person has gone along the beach, you're wasting your time and fuel, basically."
After a storm, you might get 50 people going to have a look along the beach near Kaitaia, all hoping to be the first on the scene.
The competitive nature of the business led to hunters taking more risks in search of the elusive "floating gold".
"I've damaged one vehicle as waves crashed over the top of it. Lost the engine. There's been plenty of vehicles getting swamped by the bad weather."
He would usually drive - for up to nine hours - along remote beaches. Others go on horseback, hike, or take boats to remote and difficult-to-access beaches.
He's heard of boaties being caught by the Department of Conservation rangers on marine reserves while looking for ambergris.
But he cautions against anyone hoping to strike the jackpot.
"When I first started there were bugger all people doing it but since the internet you get every man and his dog down the beach these days. It's as scarce as hens' teeth these days. There's not as much washing in as there used to be. It's probably a slowly depleting thing."
And any media coverage invariably leads to even more treasure-hunters hitting the beach.
"People aren't that well off especially in little towns. But you don't own it until you've picked it up yourself."