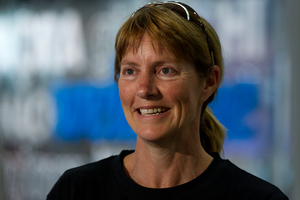 It's been 18 days of hard, heavy and "filthy dirty" work, but the Kiwi firefighters deployed to help battle the Tasmanian bushfires are on their way home.
The team of 12 arrived in Tasmania on January 9 and headed straight out to work on the front line.
Yesterday firefighter Clea Gardiner, 50, told the Herald the team had been working "non stop" since they arrived. "Our longest day was 16 hours, but we're doing 12-hour days mostly," she said.
"We're working at an area about an hour north of Hobart called Lake Repulse. They've described it as the steepest, ugliest country in Tasmania. It's very rocky, there's not an inch of ground that doesn't have a wobbly rock on it, and it's very steep.
"It's an 11,500-hectare fire, so it's absolutely huge. But we've finally got the fire under control. Hopefully we might get it finished before we leave, and put all the hot spots out.
"They'll have to run an infrared camera over after us to see if they need to keep putting crews in."
Ms Gardiner said the trip had been tiring but everyone was pleased to be there helping.
"It's really hard work. Yesterday I went to sit down for lunch and the ground is so steep I kept sliding down the hill on my bum. I couldn't even dig my heels in to hold me on the slope - that's how steep it is.
"You're moving on awkward, uncomfortable rocky terrain the whole time. Your helmet and gear keeps getting hooked up on all the branches, you're just moving, dragging hose all the time - and the hose is heavy, it's charged with water.
"It's heavy work, hard work and it's filthy dirty. You come back black from head to toe - black in your ears, black up your nostrils and our eyes. And you're wet, all the gear leaks - not because it's bad gear, it's because you're using water and you get saturated. That's fine when it's 29 degrees but some days it's been quite cold and there's been a cold wind, so you can get quite chilled."
Ms Gardiner, the only woman in the Kiwi contingent, said the fires were the largest any of them had fought. "It's just the scale of it, even 3.5 [hectares] was quite large for us."
Initially the team were sent to a 3500ha blaze on the northwest coast of the island. "It was much easier terrain. Then we've been down for a couple of days on a eucalyptus block. They'd already felled it."
It was thought the fire could have had one of three causes, she said.
"Either one of the logging strops starting a spark, arson, or it could be somebody smoking a cigarette.
"That was an easy fire, only six hectares. But that was the one where we were most likely to encounter snakes - luckily we didn't."
The fire at Lake Repulse, though, was the toughest. "It is this really rocky, steep terrain with a very, very long climb out of it and very remote.
"There's huge, old eucalypt trees, they're about 30m tall and on our first day here they were just crashing down without any warning at all, they would just suddenly crash. All you'd hear was when they hit the ground. That day was a lot of luck, not skill.
"We had a chainsaw operator on the ground going to any trees that were burned out in the middle felling them, but he couldn't get around all of them so that day I would have had 10 or 12 trees crash around me. It was incredibly dangerous, it took health and safety to a new level."
Ms Gardiner said the fact that Australians and Kiwis worked under a similar system with similar gear and terminology made the job easier.
"The fire that we're on at the moment we have a couple of water tankers at a staging point high up above us about 500m," she said.
"We've got a very long climb down to where we're working. We've just got hundreds and hundreds of metres of hose running from the tanker all the way down the hill.
"Where there's smoke, there's fire so we take the hose to there and give it a good dousing. We've also got various tools ... a pulaski, which is a double-headed axe, to cut open trees and also to move rocks if the fire is underneath the ground.
"Another tool is an odd-looking fire rake, you can rake burning logs and rocks around and just open up the smoking areas. We just keep digging down until they stop smoking."